McLaren finally gave the full reveal to its newest road car, and the first "hyper-GT" to be produced by the British automaker. Here is the McLaren Speedtail, which by the way will be limited to a 106-unit production run, and priced at £1.75 million (over $2.93 million CAD) before taxes. Don't bother reaching for your chequebook, however – all of the 106 cars to be produced are already reserved.
The Speedtail will feature a fully unique McLaren Monocage body structure made of carbon fibre, inside which the driver sits in a central position, with room for two additional passengers. The cockpit is teardrop-shaped and elongated to maximie aerodynamics. According to McLaren, the Speedtail has the low coefficient of drag of any road car the company has ever produced.
Fastest – and most expensive – McLaren ever
The Speedtail, not coincidentally, is also the fastest McLaren ever built, with a 0-300 km/h acceleration time of 12.8 seconds (that 300, not 100!) and a top speed of 403 km/h.
Drivers wanting to push things even further can activate the Velocity mode, which will optimize the powertrain's functioning and enhance aerodynamics (the car will be lowered by 35 mm) for more speed.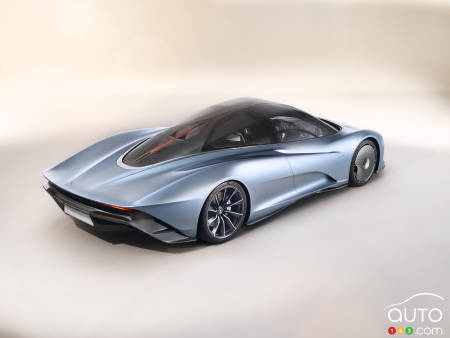 Other notable features include front-wheel static aero-covers made of carbon fibre, retractable digital rear-view cameras instead of mirrors and patented active rear ailerons, as well as double-skinned, power-operated dihedral doors with single-piece 'wrapover' lightweight glazing.
The McLaren Speedtail is also highly customizable, with buyers able to choose from a list of premium goodies like interwoven carbon titanium deposition materials and digitally embossed, full-aniline and lightweight leathers.