• Mercedes-Benz confirms it's working on a smaller version of the G-Class SUV.
It's no exaggeration to say Mercedes-Benz's G-Wagen model is a cultural phenomenon. On the market since 1979, The G-Class SUV is a unique species and it has retained roughly the same shape and style over the years.
Capable of climbing the steepest slopes and tackling the most inhospitable trails, it's just at home on the streets of Beverly Hills than in the woods. It's fascinating.
Over time, its price has continued to rise, and even if its target clientele can afford it, the company still wants to make it more accessible. With this in mind, Mercedes plans to offer a smaller, less expensive version of its all-terrain luxury SUV.
The vehicle will be electric and "fun to drive - on and off the road", said Mercedes-Benz President and CEO Ola Källenius at an event ahead of this week's Munich Motor Show. He added that in his mind, the "Mini-G" is the "daughter or son of the big G".
The model will likely be a derivative of the EQG SUV. Mercedes-Benz plans to begin sales of that new, electric G-Class next year.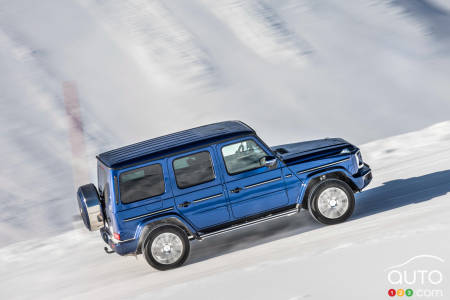 Reports of Mercedes-Benz' intentions to offer a baby G-Class are not new; it's believed the model has been on the drawing board for ages. Earlier this year, Munich publication Automobilwoche reported that the SUV's name could simply be the g-Class, with the lowercase g the differentiator.
The current G-Class is the company's most profitable vehicle. A smaller, less expensive version would appeal to buyers considering the Ford Bronco or the Jeep Wrangler, for example. Those models come with price tags that can easily approach $75,000 in Canada.
It will be interesting to see at what price Mercedes-Benz will be able to offer a smaller g-Class.
There's no official word on when a small new g-Class could hit markets, but educated guesses are putting the horizon at 2026. Stay tuned.