Nissan has long been at the head of the pack when it comes to electrification in the automotive domain, and the company behind the LEAF has no intention of letting others get ahead of it, at least not without fight. The recent Tokyo Motor Show was the occasion for the automaker to present a test vehicle featuring new electric-mobility technologies that it is developing.
The vehicle, in fact a reworked Nissan LEAF+, is fitted with two powerful motors that send power to all four wheels, and which are integrated in Nissan's chassis control system. The idea is to put together a highly-powerful all-electric vehicle equipped with a very capable AWD system.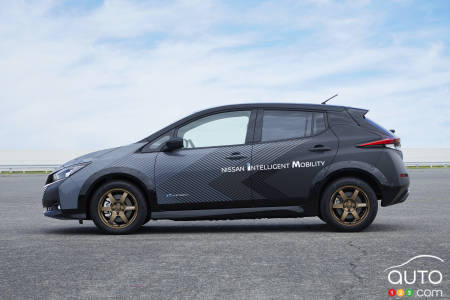 "Soon, Nissan will launch a next-generation EV that will be a true breakthrough. The new electric-drive four-wheel-control technology now being developed integrates Nissan's electric propulsion and 4WD control technologies with our chassis control technology to achieve a huge leap in acceleration, cornering and braking performance…"

- Takao Asami, Nissan senior VP for research and advanced engineering
The development of a new EV powertrain system folds into the company's Nissan Intelligent Mobility strategy, which aims to transform the way vehicles are powered and driven, but also how they fit into society at large, notably in respect to connectivity.
As for the vehicle presented and the technology it features, the press release is long and rather syrupy, which is par for the course, but here are the salient points:
The all-wheel-drive system will translate into on-road behaviour that is better-balanced, thanks notably to a better distribution of the forces that can destabilize a car. As an example, rear regenerative braking will complement the system working on the front wheels, which will reduce front-end diving when braking. Brakes can also be applied independently to each of the four wheels.
Inside, the 12.3-inch screen on the central console provide real-time data on the vehicle's technology systems and the way they're activated.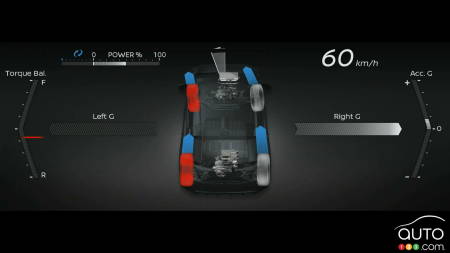 The presentation provides an early peek at what Nissan intends to present commercially down the road. Clearly, a focus of the company is to develop all-electric vehicles that deliver performance far superior to the current generation's models; the bet is that this will help convince new buyers to take the EV leap.