DesRosiers Automotive Consultants Inc. recently shared a brief study complete with analysis pertaining to how many manufacturers depend heavily on a single nameplate to make "ends meet."
Not that I'm brilliant or anything, but I noticed this trend years ago. My old love affair with Mazda has had me keep an eye on the brand and I realized long ago that without the then Protegé or the now
Mazda3
, Mazda has barely a leg to stand on.
Likewise, Volkswagen sells Jettas… and that's about it. In both cases, compact cars have it.
Passats
,
Mazda6s
,
Touaregs
and
CX-9s
count for little in these brand's bottom lines.
Let's ponder numbers for a moment: For Chrysler, the
200 sedan
represents 56.2% of total sales. The aforementioned Mazda3? 54.9%. The
Civic
counts for 49.4% of all Honda sales. And the Jetta? 45.5% of all Volkswagens sold in Canada in 2012.
I look at these numbers and cannot help but be scared for these makers. Think about it for a second. You're cozily sitting at your desk in your office, head of marketing or sales or public relations and you get an email with a picture of the next Civic/3/Jetta/Corolla (23.9%) or worse, the next
F-150
(39.4%) and it looks terrible. What do you do?
Consider the chaos that could be brought on by a poorly received new Lincoln MKX. In 2012, it represented no less than 61.8% of all of Ford's luxury car brand sales. Imagine, if you can, 24 consecutive months of weak MKX deliveries; what is Lincoln to do? Shut down its Canadian operations after losing dealers and millions of dollars?
Thankfully, for the manufacturers themselves, they're trying as best they can to keep their line-ups fresh and interesting. In Lincoln's case, the new
MKZ
's got my attention, but will it do the same for consumers? Time will tell.
Getting back to Mazda; the introduction of the latest 6 should level out the peaks and ravines for the Japanese maker's number of units delivered per nameplate. At least, that's the plan.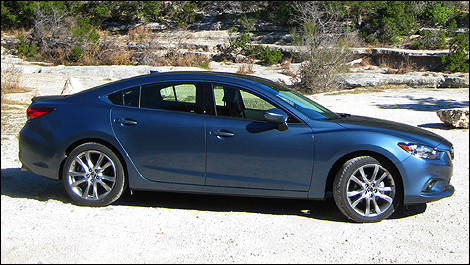 Photo: Miranda Lightstone
The bottom line here is that depending on one single nameplate for a company's survival is not a good position to be in.
However, from all of this, the winners are we. As carmakers work their collective asses off to bring us new products and sway us to purchase theirs, we get to pick amongst a large litter of great cars.