I pride myself on my driving. I may not be the most defensive of drivers (quite the opposite, in fact), but my mind is always on what's going on around me. My concentration on where I am relative to other cars and trucks on the road is unbreakable.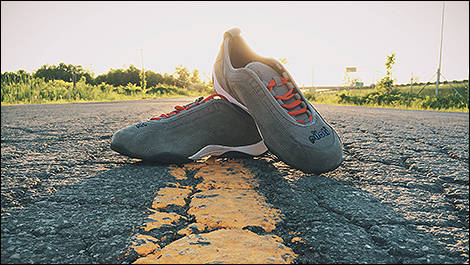 Photo: Olivier Delorme
On the road
At the drop of a phone, a moment's inattention, or a false manoeuvre, an accident can rapidly occur. I always wear the proper footwear when driving as the interaction between the synapses in my brain and what my feet will do with the pedals must be unobstructed and true. It can mean the difference between life and death.
On the track
High-speed driving on a track requires way more presence of mind and unimpeded focus. Communication between mind and body must be pure.
For most track applications, one needs a helmet for the head, gloves for the hands, and shoes for the feet. Of all the basic track-driving attire, shoes are the most important after the helmet.
I've spent countless weeknights and weekends over the better part of the last two decades honing my skills on various racetracks, and every time, I've worn driving shoes. I will admit that I've owned and still own Oakleys and Sparcos, but deep down, I've always had a desire to lace up a pair of Pilotis. In fact, many driving instructors wear them, as do some auto journalists I hold in high esteem, namely Jim Kenzie.
The return of Piloti
On the eve of the Canadian Grand Prix in Montreal, Piloti put their best foot forward with a booth on Crescent Street looking to reintroduce their brand to the public. If you're like me, you probably hadn't noticed that Piloti was not "around" given that they are still quite popular, but the fact is that they disappeared from 2012 until now. Founded in 1999, the company made some serious waves in a relatively short period of time.
Their history and major endorsements from the likes of Jay Leno, Jerry Seinfeld, and Ron Fellows will likely help make the road to "recovery" as easy as slipping on a pair.
Not just for drivers
Piloti (which means "driver" in Italian, by the way) isn't just about driving shoes: They've got everything from racing shoes to luxurious Italian leather casual shoes now. This idea is not especially new since other shoe companies also dabble in low- and high-end markets, however it's in the execution where Pilotis stand out.
The key ingredient with these shoes is the Piloti Roll Control Heel that provides cushioning behind the heel bone, ideal for perfect heel-toe operations and precise foot movements for pedal play. Vibrations are also lessened, improving control over his or her feet. That's right: As part of Piloti's rebirth, they will launch a collection aimed at the fairer sex (it won't make them faster than us anyhow, right guys?).
Crossing over to everyday applications
I've seen numerous people use their Pilotis on a daily basis. I regularly wear my Sparcos to work… even if I'm driving a minivan that given week!
The Pilotis can be worn every day, and that rings even truer with the Luxury collection, another piece of cool news from the shoe company. Pricing ranges from $150 up to $450.
The men's footwear collections include Performance, Casual, and Luxury. Each line offers 3-4 different versions. Beyond shoes, Piloti also has apparel and accessory lines. The Piloti lifestyle is very possible and highly desirable if you ask me.