• Polestar unveils Polestar 5 on the first Polestar Day.
EV maker Polestar organized a day this week dedicated to showcasing its products in the Los Angeles area. Auto123 was on hand for that first Polestar Day, and we will have a more in-depth report on it in the coming days.
On the day, the company also organized test drives of the Polestar 2 and offered rides aboard prototypes of the Polestar 3 and Polestar 4.
The Polestar 6 concept was also present for the event. However, what caught the most attention was the first public appearance without camouflage of the Polestar 5, which is set to compete with the Porsche Taycan and others of that sort.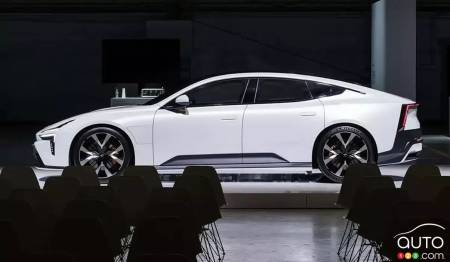 The model was initially presented in February 2020, in the form of the Precept concept, just before the start of the pandemic. Since then, camouflaged test models have been seen here and there, including at the recent Goodwood Festival in England.
Now, seeing the car in its regular robe means we're nearing the production version – though it will be 2025 before we see any on North American roads.
One unique aspect of the Polestar 5 sedan is the absence of a traditional rear window. Rather, the glass roof extends backwards to provide at least some view behind. We can expect cameras to provide most of the required rear visibility. This design aspect might well deter some buyers, the visibility is better than what the images hint at.
The Polestar 5 will be manufactured in China and integrate StoreDot technology, ensuring extremely fast charging (XFC for Extreme Fast Charging). We're talking about the recovery of 160 km of range in just five minutes (n an ultra-fast station), and Polestar says this won't come at the expense of the battery's longevity. Prototypes will be tested with this new technology in 2024. The future will tell us when it will be introduced to the market with production models.