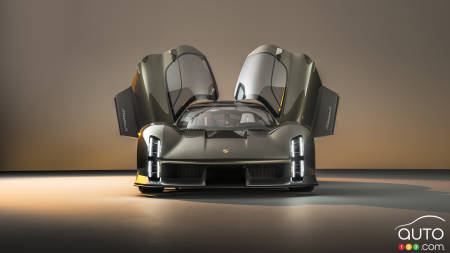 A few days ago, Porsche let it be known it would be presenting a vehicle it dubbed the sports car of the future. Yesterday, the company unveiled the Mission X concept. Best described as a supercar, this new design study features futuristic styling with retro elements, as well as – of course - an all-electric architecture.
Porsche says it is evaluating the car for possible production.
The concept is part of Porsche's 75th anniversary celebrations. The first Porsche 356 was homologated on June 8, 1948.
"The Porsche Mission X is a technology beacon for the sports car of the future," said Porsche CEO Oliver Blume. "Like the 959, the Carrera GT, and the 918 Spyder before it, the Mission X provides critical impetus for the evolutionary development of future vehicle concepts."
And to illustrate just how far technology has come, Porsche has set ambitious performance targets for a production version. These include a recharge time twice as fast as that of the Taycan Turbo S, aerodynamic downforce superior to that of the 911 GT3 RS, a power-to-weight ratio approaching one horsepower per kilogram and a Nürburgring record for a production vehicle. For the moment, the 6:35.183 mark belongs to the Mercedes-Benz AMG One.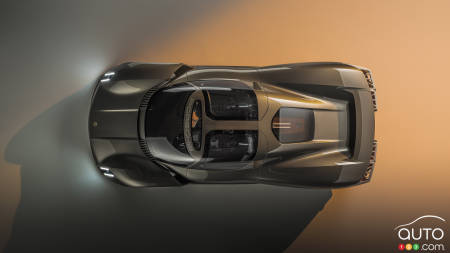 The concept is relatively small, stretching 177.0 inches on length and sitting 78.7 inches wide. That puts its proportions roughly identical to those of the Carrera GT 918 Spyder. The two-seater features a lightweight glass dome and a carbon-fibre-reinforced plastic exoskeleton for strength, as well as attachment points for Le Mans prototype-style doors.
The doors are a nod to Porsche's legendary 917, while the headlights are meant to reference the optics of the 906 and 908. When activated, they open like flashing eyes.
The exterior is completed by 20-inch wheels at the front and 21-inch wheels at the rear, carbon-fibre aerodynamic components, a unique paint called Rocket Metallic, cameras in place of side mirrors and the new Porsche logo. The rear wheels feature almost transparent aerodynamic blades, designed like turbines to improve brake cooling.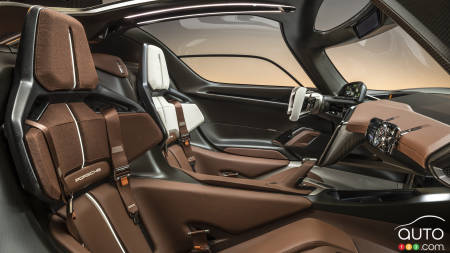 On board, the designers thought of integrating a stopwatch that attaches to the dashboard.
What we don't know are the technical details, Porsche has remaining mum on the subject. We do know that the company is working on a number of innovative technologies, as is parent company Volkswagen. There's no doubt that the best of what's available will be put to work on this model, should it reach production.
If it does, we should not expect it to go into production before 2025.