For weeks we've been getting teased about it, and now it's finally here. INFINITI is officially unveiling its Prototype 10 during Monterey Car Week as part of activities surrounding the Pebble Beach Concours d'Elegance. The new concept is an ideological offspring of the remarkable retro-style Prototype 9 revealed last year at the same event.
The 9 was a design study that gazed backwards in time to a different era of car racing, but features advanced – and electric – technologies. The 10 continues in that same vein, mixing cutting-edge electric technologies with styling that evokes speedsters of days gone by. At the same time, however, the new prototype provides a window into the future design direction the automaker intends to take. Here's the company's own take on its creation:
"Where Prototype 9 – a sleek, open-wheeled, electric retro-roadster – imagined an alternative history for INFINITI, the Prototype 10 is resolutely focused on what the future holds for the brand."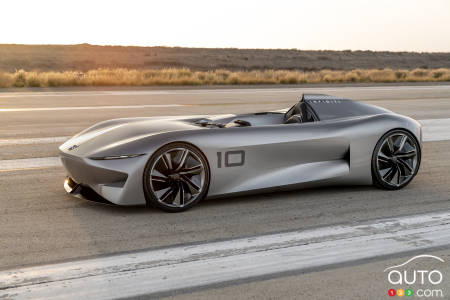 The contours of this new concept are thus intended to shape the future of the brand's design esthetic. That leaves a lot of room to the imagination, of course, but for example our attention is drawn to the nose of the car. It's got no front grille, for one thing; this is a design element we expect will gradually disappear as electrified models gain in prominence.
On that note, recall that INFINITI has already said that it intends to have every model in its lineup be available with an electrified platform of some type or other by 2021. Given that several of the company's models are up for revision, we can expect to see some pretty futuristic design elements appear on the next generation of models in the near-future.
Check out our photo gallery of the new Prototype 10, currently on display at Pebble Beach, and you're probably looking into the future.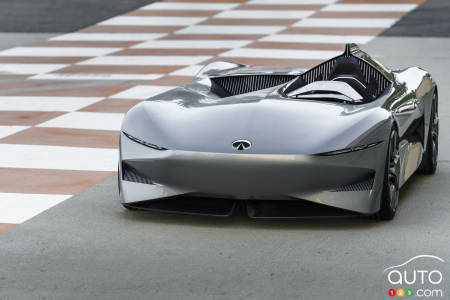 The project for the Prototype was the first at the company to be led by INFINITI's head of design, Karim Habib. Of Lebanese origin but a Montrealer by adoption, the executive has been in place for a year at INFINITI after a long stint at BMW.
When we had the opportunity to speak with him not long ago, Karim Habib told us how impatient he was to get to work designing new electrified products, which be their very nature allowed designers to step outside of pre-established norms.
The new Prototype 10 is a perfect example of the possibilities he was alluding to.