Drivers in Quebec will soon be seeing new rules and restrictions adopted as part of changes to the province's Highway Safety Code, tabled by the provincial government last Friday. The modifications proposed in Bill 165 aim to address changing realities in the driving environment and help protect vulnerable road users and at-risk segments of the driving population.
The new rules were formulated following a vast public consultation process that took place in the winter of 2017.
"We have to take all possible measures to continue to improve Quebec's road safety record, and ensure that the Highway Safety Code reflects today's realities. By tabling this bill, we are sending a strong message regarding risky behaviour that requires regulating and emphasize the principle of prudence in order to improve the way our roads are shared."

- André Fortin, Quebec's Minister of Transport, Sustainable Mobility and Transport
The major changes, in brief…
Prudence principle
All users of the province's public roads will be obliged to act with prudence and respect, particularly in relation with more-vulnerable road users like cyclists and pedestrians. The latter groups will also be obliged to act in such a way as to maximize their own safety.
Cellphones and distracted driving
The current ban on hand-held devices equipped with phone functions will be extended to all portable electronic devices. Fines for drivers breaking this law will increase from $80-100 to between $300-600, and fines will be doubled in the case of repeat offences, accompanied by immediate 3, 7 or 30 driver-S permit suspensions depending on whether it is a first, second or third repeat offence.
One of the more controversial elements of the modifications to the Code is that drivers will continue to be allowed to consult a display screen (i.e. a GPS, or built-in screen) providing information, as long as the device is placed so that the driver can directly or indirectly see the image displayed on the screen.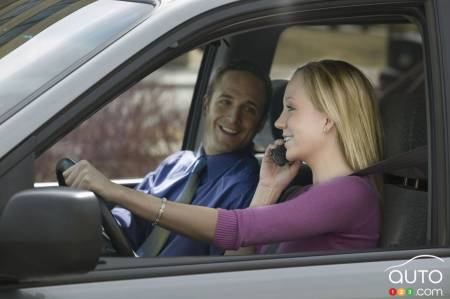 Alcohol at the wheel
All repeat offenders will be required to have an alcohol interlock device in their vehicle for the rest of their lives, although they will have the opportunity, after 10 years, to request that this condition be lifted if they can convince a magistrate that they no longer pose a threat due to alcohol or drug consumption.
Winter tires
The date each winter by which all vehicles will need to be fitted with tires certified for winter driving will be moved up from the current December 15 to December 1; the date on which those tires can be removed (March 1) will remain the same as before.
High-risk zones
Fines will be doubled for speeding in school zones (during school hours) and for failing to obey signals, a crossing guard or an officer of the peace.
Young drivers
Drivers with learner's permits will be subject to a curfew that applies from midnight to 5 a.m., while drivers with a probationary licence who are 19 years of age or under will only be allowed to transport up to three passengers under the age of 19 during those same hours, for a period of 12 months.
Quebec also intends to adapt its legislation to promote the introduction to shared roads (speed limit: 20 km/h) and "vélorues", roads on which speed limits will be set at 30 km/h, in order to improve shared-road use by motorists, cyclists and pedestrians. The bill also opens the door to pilot projects regarding the testing and eventual use of autonomous-driving cars in the province.