"Crazy" Leo Urlichich gave some members of the media a fantastic chance to taste what rallying is all about by offering up his co-driver's seat. Undoubtedly, rally is an extreme sport and to be shaken up in a rally car requires nerves of steel – and a strong stomach.
Leo is driving an ex-Tom McGeer, 2004 Subaru Impreza STI in the Open category of the Canadian Rally Championship. Prior to the Rallye Défi in Ste-Agathe, Leo and his co-driver Martin Brady stood third in the standings with 29 points behind Antoine L'Estage (Mitsubishi) and Patrick Richard (Subaru).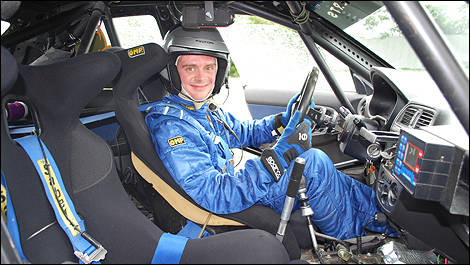 Photo: Rene Fagnan/Auto123.com
For the recce, Leo uses his everyday, street-going STI. And that's also the car he used to give rides to journalists at Autodrome St-Eustache near Montreal.
"Crazy" Leo came to rallying by accident – literally – when he rolled his Impreza STI in Toronto with a BMW sales rep aboard! The damaged car was taken late at night to a garage ran by rally enthusiasts. Meeting these people gave Leo the bug for rallying. He tried it, and got hooked.
"What I like most about rallying is the fact that you're allowed to drive fast on public roads!" Urlichich told us.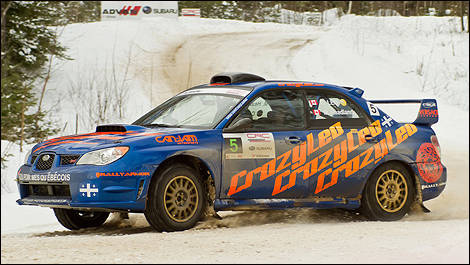 Photo: Crazy Leo
"I just love driving fast, and rallying gives you the chance to drive at high speeds on various surfaces such as tarmac, gravel, snow, ice, and mud. It's really great, and fun! I took a rally school, purchased a rally-prep STI and went rallying," he continued.