• For the first time in history, SUV sales have broken the 50-percent barrier in Europe.
In North America, as we know, consumers have moved en masse away from cars in favour of SUVs and pickups. In Europe, the car has remained more popular, but even there it has been fighting a rear-guard action for several years. The power of utility vehicles should not be underestimated.
2023 is marking a another tipping point in that action: SUVs now account for more than half of new vehicle sales on the Old Continent. This is the first time in history that this has happened. Precisely, the market share of SUVs rose to 51 percent.
Leading the way is the Tesla Model Y, with 138,152 units sold. In second place is the Volkswagen T-Roc, with 104,465 sales, followed by the Toyota Yaris Cross, with units sold.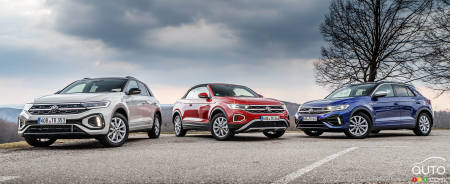 If there's any consolation, it's that it's en EV leading the way, followed by some very small SUVs. Fuel costs are still much higher in Europe than in North America, remember.
Here's the breakdown of new vehicle sales in Europe in 2023, by vehicle format:
• Subcompact SUVs - 1,133,822 units sold
• Compact SUVs - 999,558
• Subcompact cars - 913,571 sales
That at least shows that the car is not completely abandoned. The Dacia Sandero, Opel Corsa, Peugeot 208 and Renault Clio cars all sold over 100,000 units.
But there's a cloud on the horizon when it comes to smaller vehicles. That cloud is the Euro 7 standard. If it is applied in its current form in 2025, manufacturers are worried small vehicles could disappear. Volkswagen, among others, has warned that adapting combustion engines to meet the stricter legislation will lead to price rises that will make these vehicles too expensive.
The silver lining is that the transition to electric mobility will mitigate the adverse effect that larger vehicles have on pollutant emissions when in use. On the other hand, it remains true that the bigger a vehicle, electric or not, the more resources it requires to manufacture.