Montreal, PQ
-- The ninth annual Sport Compact Performance Show (SCP9) was held from October 17 to 19 at the Montreal Olympic Stadium. With over 300 cars on hand, the event was attended by more than 60,000 visitors, making it the biggest show of its kind in North America.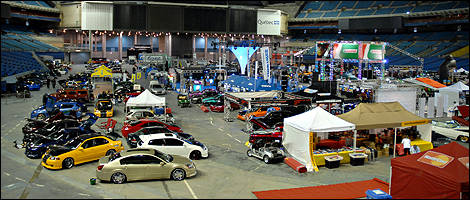 The show-stopper at SCP9 was the Cadillac CTS Top Tuner, designed by Elite Tuners of Canada and its direc
Diversity is the operative word here. Surrounding the new 2009 Chevrolet Corvette ZR1 ($125,195) were older yet still attractive models like the HHR Concept, a two-door, low-roof wagon that was introduced at the 2005 SEMA show. A couple of feet away, a Monte Carlo from the '80s sitting on 26-inch wheels and extra-low-profile tires seemed to trade visual jabs with a nearby Dodge Ram Rancho from DynoMax.
Among the group of customized Ferraris and the many Americanized Japanese imports (some with a right-hand drive) was a genuine post-WWII hot rod nicknamed "T-Bucket". There were also unique motorcycles created by Zeel Design, two Aeros 3S (an odd full-fairing variant of the T-Rex), and even a massive Peterbilt 379 "Coga" riding on a lowered suspension!
Must-see attractions
Obviously, a tuning show like this one also included "Hop Off" demos from the Luxurious Lowrider Club. At one point, it was like standing in a field of grasshoppers!
SCP9 again held the popular Ms. SCP bikini pageant, the largest such event in Quebec. This year, two young and hip celebrities co-hosted the contest: DJ Shortcut and Babu.
Exhibitors brought their cars for the Bud Light Show'n Shine. There were over 300 entries for the Best of Show award, which came with a $10,000 prize and other gifts.
"The prestige of winning at SCP is what motivates people," says Ben Woo, National Director and co-creator of the event. "Tuners work for months and months on these cars because they know that if you win here, you can win anywhere."
"This event is the only one of its kind in Canada, and it features a huge collection of the craziest cars around," said Marsha McLaughlin, Marketing Communications Manager, Wakefield Castrol Canada, one of SCP9's major sponsors. "Trends in car design change all the time, and this show is essential for anyone who wants to keep up with them."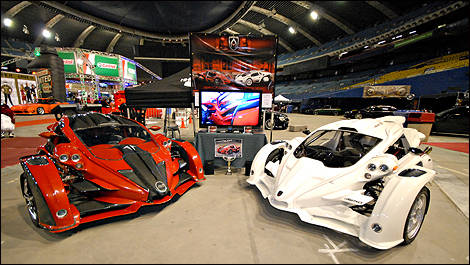 SCP9 showcased a diversified selection of tuned-up models, including this Aero 3S, a full-fairing variant of the T-Rex.