In 1996, I bought my first turbocharged car. It was a 1989 Mazda MX-6 GT. Before it, I had taken over my father's 1985 carbureted 2.0L 85-hp 4-cylinder Mazda 626 LX coupe. In a few words, my MX's 2.2L turbo, rated at 145 hp and190 lb-ft of torque, was one hell of a huge step up, power-wise.
I dabbled with the intake and exhaust, and seat-of-the-pants and G-Tech Analyst measurements guesstimated that my revised output was north of 175 hp and well over 220 torques. This little car went like the Dickens. My father had, a few months prior, purchased a 1991 MX-6 GT, which I more-or-less took over after I got rid of my '89 a few years later.
From there, I moved over to older Volkswagens, abandoning turbos, but that's a story for another day. I've since returned to the "T" as the family car is a 2.5T Volvo. Incidentally, my father also owns a 2.5T Volvo and my brother, a 2.0T Hyundai...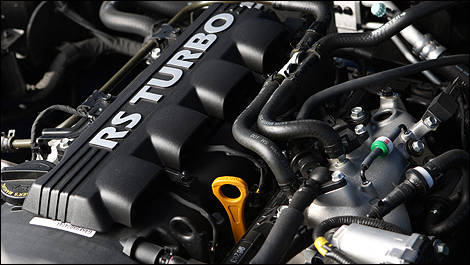 2010 Hyundai Genesis Coupe 2.0T (Photo: Matthieu Lambert, Philippe Champoux/Auto123.com)
Back when I was tearing up side-streets in my MX, I was usually alone. During the course of the '90s and early 2000s, there were very few regular-range boosted cars to be had. There was the WRX (I want a bug-eye so BAD!), 1.8T GTI, Talon and Eclipse, and if I dig a little deeper, the Hyundai Scoupe, Suzuki Swift and Isuzu I-Mark Turbo.
These were not good days for boost-lovers like me. Oh, how times have changed. Today, you can quench your turbo-craving just about everywhere. Be it with Chrysler (Fiat especially), Ford, GM, Hyundai, Kia or the majority of the European brands, turbocharging is featured on the menu. The Japanese, which in some cases were big in this department back in the day, will eventually come around.
Without a doubt, the most popular configuration is a 2.0L 4-cylinder. Every German manufacturer has one except Mercedes, which has a 1.8T. Range Rover offers it in their superb
Evoque
, Ford's has it in CUVs, soon to be coming to cars such as the
Focus ST
, and Hyundai and Kia dole it out in their Sonata and
Optima
sedans, respectively.
Why all this turbocharging? Manufacturers are touting the exhaust-driven compressors as being green. If you consider that a 2.0T makes the same power as a 3.5L V6 while using 25% or so less fuel, I have to agree. From where I stand, it's all about performance.
More turbo please!