• Volkswagen is sticking to its electric plan. The German automaker still intends to launch an affordable EV in the United States within 3-4 years.
There's much talk – and gnashing of teeth – over the high cost of EVs currently on the marker, especially in North America. Affordable models are rare, and the products expected in the coming months are not going into that category either.
Many consumers are in fact sitting on the sidelines, waiting for more affordable EVs to come to market before making the jump to electric. Yes, incentives reduce prices and fuel savings are significant in the long run, but high initial costs are keeping many potential buyers away.
That's why many automakers are talking about plans to introduce more affordable models. Yesterday, we heard from Chrysler, which says it wants to enter the EV market with a model that buyers can actually afford. Also this week, Volkswagen reiterated its commitment to doing the same in North America.
The automaker wants to bring to market in the U.S. an electric vehicle costing less than $35,000 USD, within three or four years. That could mean an MSRP of roughly $40,000 CAD in Canada.
Speaking at the Reuters Events Automotive USA 2023 conference in Detroit, Reinhard Fischer, senior vice-president and head of strategy at Volkswagen Group Americas, said the plan is to assemble this affordable vehicle in the U.S. or Mexico. And unlike other carmakers, VW is not hedging on its commitment to electrification.
"We are not scaling back our electric vehicle plans for the U.S. market."
- Reinhard Fischer, Volkswagen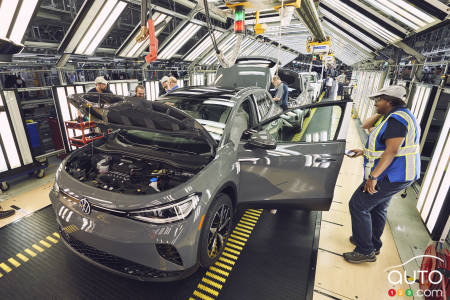 The company operates a plant in Chattanooga, Tennessee, as well as in Puebla, Mexico, where the Beetle was long assembled. A new plant will also be built in South Carolina, which is earmarked for the Scout subsidiary, but it could be a logical choice to produce this future affordable EV.
Volkswagen is also considering localizing battery assembly for the sub-$35,000 model in order to benefit from additional programs under the U.S. Inflation Reduction Act.
Volkswagen has already announced that it will manufacture battery cells in Canada for its current electric vehicles, as well as those to be manufactured in North America.
An interesting final piece of information. At the same conference, Ganesh Iyer, U.S. managing director of Chinese manufacturer Nio, said his company needs to build an infrastructure before introducing electric vehicles in North America, and that the company was considering "any type of partnership".
The firm, which is highly subsidized by the Chinese government, is still studying the possibility of breaking into the North American market in 2025. However, "things have changed" in terms of geopolitics, global supply chains and other factors that could affect the decision to sell its cars in the U.S., added Ganesh Iyer.
See also: Volkswagen Will Go All-Electric in Europe as of 2033