• Volkswagen is recalling the ID.4 EV.
Recalls are common, of course, and the most common ones have to with mechanical or software problems. But sometimes, the problem lies somewhere else entirely. Case in point, a new recall announced today of the Volkswagen ID.4 electric SUV, targeting 2023 and 2024 models.
The automaker is calling back to the shop 23,883 units to deal with a potential problem with the roller sunshade for the panoramic roof. According to Transport Canada's website, "the material of the roller sunshade for the panoramic sunroof may not meet the flammability requirements of Canadian regulations."
In Canada, 2,744 EVs are affected by the recall campaign.
Volkswagen discovered the problem during internal testing. The automaker claims to have received no complaints or reports of injuries. The tests revealed an unacceptable variability in the burn rates of the fabrics, which sometimes burn faster than the regulations allow. In the event of a fire inside the vehicle, the risk is obviously greater if the materials burn more quickly.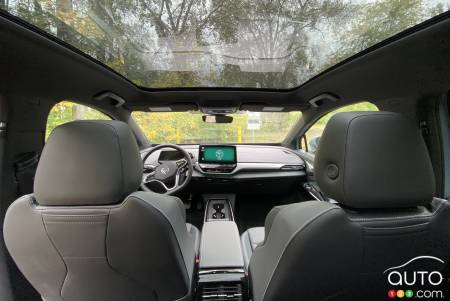 The fabric supplier's in-house tests had always produced satisfactory results in terms of legal compliance. After lengthy discussions, Volkswagen decided that "due to the inconsistency of the test results, we have decided to issue a recall for non-compliance".
To resolve the problem, "Volkswagen must notify owners by mail and ask them to take their vehicle to a dealer to have a fire retardant applied to the roll-up sun visor," reads the Transport Canada website.
On models assembled since August 1, 2023, the roll-up sunshade has been turned upside down, oriented so that its outer surface now faces the inside of the vehicle. The company had noted that, for some reason, this resulted in "considerably better performance" during testing.