While negotiations falter and the threat of expanded strike action grows in the U.S., a tentative agreement between the Canadian Unifor union and Ford will be voted on by union members this weekend.
The agreement was unanimously approved by the union's main bargaining committee on Tuesday past, but it must be approved by rank-and-file members before ratification. Unifor represents some 5,600 workers at Ford's assembly and engine plants in Ontario.
Initially, there had been talk of a vote before the weekend, but it will be Sunday before we know whether workers accept the terms of the deal.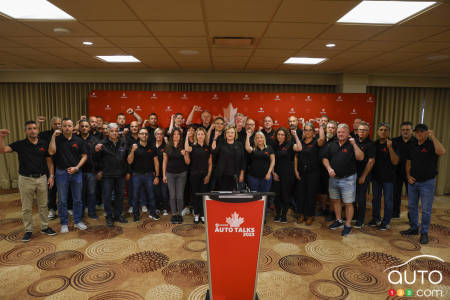 As reported by Automotive News, the union plans to hold information sessions early on Saturday and open the vote shortly thereafter, according to an update sent to members of Local 707 in Oakville, Ontario.
Voting runs until Sunday, September 24 at 10 a.m., giving members about 24 hours to decide whether or not to approve the new collective agreement. Voting results will be made public later on that day.
There's general optimism members will vote to accept, but given the current situation in the U.S., the outcome of the ratification vote is not guaranteed, according to some stakeholders and observers, including Larry Savage, Chair of the Department of Labour Studies at Brock University in St. Catharines, Ontario:
"Even though Unifor's negotiating team has reached the best contract in a generation, it could be rejected if it doesn't meet workers' high expectations, given the militancy of the UAW (United Automobiles Workers) south of the border." UAW President Shawn Fain's aggressive tactics and public demands have "raised the expectations of auto workers on both sides of the border," added Savage.
Neither Unifor nor Ford disclosed details of the tentative agreement, although a source familiar with the negotiations told Automotive News Canada that the union had asked for wage increases "in excess of 20 percent".