As previously reported, Yamaha bought the designs of the
T.25 electric car
from former F1 engineer Gordon Murray to create the MOTIV-e. Together with the man himself, Yahama recently unveiled the car during CENEX.
Initially shown at last year's Tokyo Auto Show, the MOTIV-e is a small electric vehicle with F1-sourced technologies that reaches new levels of safety, lightness and driving dynamics while boasting a tiny carbon footprint.
Standing 2,690mm long and 1,470mm wide, the MOTIV-e can accelerate from 0-100 km/h in less than 15 seconds and tops out at 105 km/h. Range is estimated at 160 kilometres. There's a 13kg Zytek electric motor and a single-speed Vocis transmission.
Source : Yamaha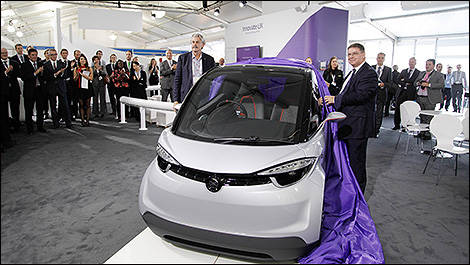 Photo: Yamaha