2003 Ferrari Enzo - Going, Going, Gone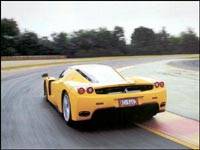 I've driven quite a few Ferrari's over the years. The classics are my favorites, not because they drive better than the current models but because they speak to a deeper level of my soul. The new cars are sensational machines. None are as pretty as the 275 GTB or 365 GTB/4 Daytona that followed, excepting maybe the beautiful 456 M 2+2.
The Enzo, Ferrari's brash F50 replacement, follows the Italian company's most recent function over form fashion. Truly, its downforce optimized lines might only be beautiful to an aerodynamic engineer - 343 kg (756 lbs) at 200 km/h (124 mph) and 775 kg (1,709 lb) at 300 km/h (186 mph). The supercar incorporates a front fascia directly inspired by the company's F1 racecars, side scoops large enough to swallow up a pair of Entlebuch cattle dogs and a canopy that stirs distant memories of Yamaha's rather strange OX99-11 concept car. True to Ferrari's heritage, four somewhat stylized round tail lamps grace the otherwise awkward rear end. Just the same, it's a ferocious looking design, smaller than the F50 but more purposeful than the more curvaceous progenitor could ever hope to be.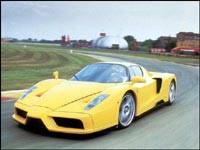 Inside, the F1 theme continues with a semicircular steering wheel replete with color-coded buttons for disengaging the traction control or activating reverse gear, among other things, plus warning lights that flash at 500 rpm intervals past 5,500 rpm. Minimal HVAC adjustments placed below twin round air vents make the central dash area slim, especially so with regards to the center console that houses a large red start button and switches for the hazard lights and fog lamps - no audio system is available. The carbon fiber that surrounds isn't just trim, it's structural, highlighting the cars exotic composite bodywork.