Hummer SUT
LAS VEGAS: As was widely expected (GM of Canada had a picture of it on a calendar it sent out to consumers recently), the Hummer H2 SUT will go into production next year as a 2005 model.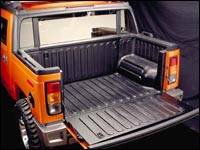 The SUT (for Sport Utility Truck) is an SUV with a flexible pickup bed, a concept which has been used previously by GM in the popular Cadillac Escalade EXT and the Chevrolet Avalanche, and should work again in the 2004 GMC Envoy XUV.
No driving opportunities were available at the media reveal here at the Las Vegas International Speedway, but discussions with the key executives and a general eyeballing of the vehicle itself suggest the SUT is about to become the next hot ride for people who are willing to spend big to live large.
The SUT has a presence and an attitude way beyond anything else on the road and continues the eclipsing of Jeep and Land Rover by Hummer as the premiere purveyor of off-road vehicles on the planet.
It looks like it can go over and crush anything that gets in its way, which makes it the perfect accessory for movie stars, rock gods, pro athletes and regular people willing to use their money to look like movie stars, rock gods and pro athletes instead of the vice-president of human resources that they really are.
Hummer H2 SUT is also not going to be on the calendars of anyone in the environmental lobby, but it should be their new favorite target, replacing the Ford Excursion.
Like its siblings the H2 and the H1 (which gets a much-overdo interior upgrade this year), the SUT will indeed go off-road, probably better than anything else on the market. But also like its siblings, the primary unpaved experience for the SUT will be the gravel roadway leading to the golf and country club.
No one's going to spend this much money (no prices were announced, but with taxes you probably won't get much back from that $100,000 bill) and then risk pranging it in the pursuit of nature's tranquil beauty. This vehicle is more about crushing the spirits of your friends and enemies than a bunch of bushes in the forest.