As far as large mainstream sedans go, the choice is pretty limited to domestic brands, one Japanese brand and one Korean brand. While people are downsizing their rides for fuel economy reasons, and for the fact that smaller cars are bigger than before anyway, one full-size contender sets itself apart from the crowd of quiet, near-luxury sedans: the 2013 Dodge Charger.
With a choice of V6 and V8 engines, as well as seven trim levels to suit your style or budget, the Charger impresses by the way it drives like a smaller car, and unlike conventionally styled rivals such as the
Chevrolet Impala
and the
Toyota Avalon
, it draws attention and compliments from people of all ages.
Good morning officer!
Our 2013 Dodge Charger SXT Plus tester was painted in arrest-me red, the perfect colour for displaying the car's athletic looks. The angry face, the hood and door creases as well as the full-width taillights with LED illumination create a strong visual impact. As well, you'll see obvious styling cues that remind us of the 1968-1970 Charger.
At school, I got positive comments from men, women and kids who were all fond of the striking 2013 Dodge Charger, despite it not being an R/T or an SRT version. I usually get that much attention when I'm driving a Porsche, a
Shelby GT500
or a Mercedes-Benz AMG model.
Radar Red leather
In addition to the cloak of red paint, this 2013 Dodge Charger's interior was dressed in red leather upholstery, which adds a nice, sporty touch.
Up front, the seats are very comfortable and there is plenty of room. In back, two adults will be at ease, although headroom isn't all that generous, and the transmission tunnel prevents a middle occupant from getting comfortable. In a car this big, there should be more space back there, although the
Ford Taurus
is no better. On the other hand, the 467-litre trunk is pretty big and includes grocery bag hooks.
Kudos to Chrysler's Uconnect 8.4N infotainment system. The touchscreen responds instantly to the slightest tap of a finger, while the big icons and buttons make it easy to use while driving. I'd take this system over Ford's MyTouch interface any day.
Bluetooth phone and streaming audio is included in the 2013 Dodge Charger SXT Plus as well as satellite radio, a USB port and a navigation system. And you still get big, rubber-wrapped volume, tuning and climate control fan speed knobs for quick adjusting; not particularly stylish, but highly functional.
In addition, the dashboard's design and finish isn't mind-blowing, yet it doesn't look cheap either. Chrysler has reduced the number of assembly bits and pieces, and the result is less dash squeaks and a cleaner look.
Pentastar gets the job done
The 2013 Dodge Charger SXT Plus is equipped with Chrysler's widespread 3.6L V6: in this application, it develops 292 hp and 264 lb-ft of torque.
Our test car also benefits from an 8-speed automatic transmission, which provides smooth and quick gear changes. It also keeps the V6 humming along on the highway; at 100 km/h, the Pentastar spins at only 1,500 rpm. Fuel economy is decent at best around town, and gets better on the open road. We averaged 11.7L/100km in this AWD Charger.
Acceleration is strong, and unless you sampled a HEMI V8 equipped Charger before trying the V6, you'll think it's more than enough for this big sedan. Choose the optional Blacktop Package or Rallye Group, and output climbs to 300 hp; you'll also get wheel-mounted paddle shifters, a feature our SXT Plus didn't have.
Speaking of all-wheel drive, the system favours the rear wheels, disconnecting the front axle under normal driving conditions. It's a $2,200 option on SXT, SXT Plus and R/T trims.
The 2013 Dodge Charger is also easy to drive and park, despite its size, thanks to a decent turning radius and good outward visibility. The steering is nicely weighted for both parking-lot speeds and higher velocities, while the suspension easily soaks up the nastiest cracks, bumps and potholes. The car feels refined beyond its asking price.
Affordable to extremist
A 470-hp, $48,095 2013 Dodge Charger SRT would be nice. However, a rational choice would be the $33,195 Charger SXT. Our SXT Plus test car with AWD costs just over $40K as equipped. Personally, I'd sacrifice some fuel and spring for the V8-powered, slightly more entertaining Charger R/T.
You can also choose the
Chrysler 300
, which shares pretty much everything with the Charger except its exterior appearance and some trim differences. It's just as good, just not as attention-grabbing.
Right now, the 2013 Dodge Charger is arguably the best full-size sedan on the market. One thing's for sure, though: it's the best car Chrysler currently sells.
Road Tests and Reviews

Consumers
2013 Dodge Charger SXT Plus AWD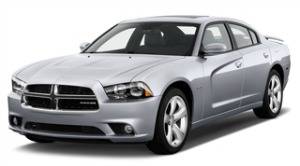 2013 Dodge Charger SXT Plus AWD