Growing ever larger in both size and popularity, the Civic has sold millions of models since its debut in 1973, yet began fielding criticism for becoming dynamically stagnant. In the wake of the recent economic meltdown, the 9th gen model released in 2012 was an exercise in economy -- a cost-saving endeavour for buyers in a depressed market. A good belt-tightening strategy, if not for the onslaught of excellent new offerings from Honda's competitors.
What is the Honda Civic Coupe?
The
2012 Civic
was lambasted by the automotive press for its cheap, plastic-y interior and surprising lack of innovation for a vehicle previously known for its appeal to the younger generation. Yet buyers embraced it, and the Civic was once more the bestselling car in Canada last year. Nonetheless, Honda responded to the stinging criticism with an overhaul that addressed those complaints.
2013 Honda Civic Coupe price and specs
Prices start at $18,645 for a base LX with the familiar 1.8L 4-cylinder engine and 5-speed manual transmission. My loaded Civic EX-L Navi with 140 horsepower had a base price of $25,295 with an "as tested" price of $26,890.
Official fuel ratings are 7.1L/100km city and 5.0L/100km highway, while I averaged 8.0L during a week of mixed driving.
Driving the 2013 Honda Civic Coupe EX-L
Changes to the Civic's body structure reduced noise, vibration, and harshness levels considerably. A stiffer front sub-frame and extra sound-deadening insulation result in a quieter, more premium ride. Wind noise -- a common complaint with the previous model -- was improved via a thicker windshield and door glass.
On the highway, the 2013 Honda Civic Coupe EX-L feels lively enough and quite settled through the turns thanks to thicker front and rear sway bars, and stiffer spring rates. While its engine output is fairly modest, the Civic is still an engaging if not exactly racy performer. Recalibrated electric-assist steering has quicker ratios -- the 2013 Honda Civic EX-L is pretty easy to manoeuvre around a parking lot. The front brake rotors were increased by 20mm to improve stopping distances.
"Econ" mode in the 2013 Honda Civic EX-L saves up to 5% in fuel consumption by remapping both throttle and transmission response, although performance is noticeably more "relaxed." Frugal driving is additionally encouraged by gauges that change from blue to green as fuel consumption goes down.
Inside and Out of the 2013 Honda Civic Coupe
EX-LWhile the new Civic sedan received an extensive design overhaul, the coupe remains virtually unchanged with only a few subtle revisions to the front and rear fasciae. Resplendent in rich peacock blue, my top-spec EX-L Navi tester is a good-looking, sporty two-door on 17" alloys with an eye-catching multi-spoke design.
Open the door, and it's apparent how much effort has gone into improving the 2013 Honda Civic's interior. Close the door and you're impressed with the solidity of its construction -- a first hint of insulation and sound-deadening improvements.
No longer a dismal display of cheap, hollow plastics, the 2013 Honda Civic's cabin now features a higher-quality construction using premium materials.
My EX-L tester boasts leather seats with contrasting stitching that carries over to the console lid, steering wheel, and dash. Panel gaps were reduced. The switchgear has a more solid and refined feel -- but there is an awful lot of it.
The two-tier dash returns in the 2013 Honda Civic Coupe EX-L, but it's more refined and less gimmicky. The curvature of the dash and console create a truly driver-centric environment with everything designed to make access and visibility easier. Infotainment controls repeat on the steering wheel.
Front seats are comfortable, offer heating across the lineup, and provide plenty of head and legroom. The rear seats offer reasonable seating for a coupe, but taller passengers may find their heads making unwelcome contact with the rear glass.
Technophiles will embrace the 2013 Honda Civic's increased level of connectivity functions, from hands-free text message response to audio streaming, USB and Bluetooth capability. Upper-level trims come equipped with a multiview backup camera, a practical feature when you consider the compromised visibility rendered by the Coupe's diminishing roofline.
There's a host of safety features, too, including new SmartVent front-side seat airbags, tire-pressure monitoring, and stability control.
Comparing the 2013 Honda Civic Coupe EX-L
The compact coupe segment is a highly competitive one, with plenty of choice. It includes the
Hyundai Elantra Coupe
,
Kia Forte Koup
,
Chevy Cruze
, and the
Toyota Corolla
. Both Hyundai and Kia boast impressive warranties and a high level of features -- and the Cruze is doing well with buyers.
The Civic Coupe, arguably the sportiest of the bunch, has an excellent resale value and a long-held reputation for reliability.
Road Tests and Reviews

Consumers
2013 Honda Civic EX-L NAVI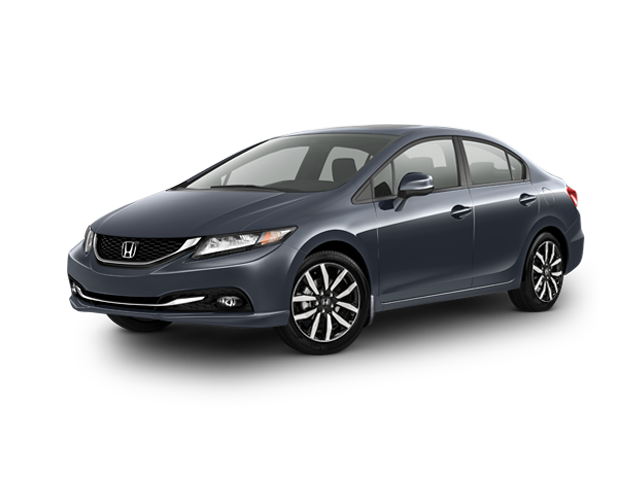 2013 Honda Civic EX-L NAVI