"Grace, Space & Pace" has been Jaguar's slogan forever, and I'm pleased to announce that the 2014 XJL 3.0L V6 fits this like a well-worn driver's mitt. It is the quintessential class ride for those who enjoy the experience of piloting a well-designed luxury performance machine.
What is a Jaguar XJL?
Jaguar's flagship XJ nameplate has been around since the late '60s. Although the model has been through several reincarnations, it somewhat maintained the traditional appearance of its forefathers. However, the current Jaguar XJ series, launched in 2009 (2010 MY), changed all this. The new XJ series was set to follow the trail laid out by its midrange sibling, the Jaguar XF (launched in 2007). It was a dramatically modern design for the XJ, specifically aimed at a new breed of Jaguar buyer. This was a huge gamble in many ways, but has since proven itself a smart move by the company.
Since then, Jaguar has invested heavily in updating the model year upon year, and now with AWD added to the mix the Jaguar XJ is well positioned to take on all.
2014 Jaguar XJL Price & Specs
Our tester started out at $96,490. Of course, add in the Premium Rear Executive package, a fantastic 825W Meridian sound system, plus one or two other niceties and it topped out at $113,440. That's a fair chunk of money, even if you say it fast. However, the Jaguar XJL 3.0L V6 AWD is a lot of car and, when compared to others in its class, it's not difficult to find value in the Jaguar.
Fuel economy: 13.2L/100kms (City) / 8.1L/100kms (Hwy)
Fuel tank capacity: 82 litres
Driving the 2014 Jaguar XJL
At first glance, the XJL appears to be a rather large automobile. Take a second look and it still appears large, especially for a vehicle with a 3.0L V6 under its hood. However, this is the "L" (Long Wheelbase) version and Jaguar has seldom been known to under-power its offerings.
A quick tap of the start button, made famous by Jaguar products of the '60s, awakens the sleeping beast. However, its quiet cabin muffles the sound of the engine to the point where one's tempted to hit the button again. Then suddenly, the now familiar rotary dial gear selector gracefully rises up from the centre console and, with a quick twist of the wrist, the cat is placed in prowl mode.
The XJL may be powered by a humble 3.0L V6, but supercharging this to 340 hp certainly has its benefits. With all four wheels clawing at the tarmac, this floating palace goes from 0-100km/hr in just 6.2 seconds. Much of this is down to the fact that the 2014 Jaguar XJL boasts a curb weight of just 1,883kg thanks to its rigid, but lightweight aluminum construction.
Yes, a sizable vehicle, yet it certainly doesn't feel so at times. The handling characteristics of the XJL are simply superb. It takes the twists & turns like a vehicle half its size, yet becomes a stately cruiser on the highway. Jaguars have always been famous for this split personality. However, drivers need to pay close attention to the speedometer if they value their license as the combined smoothness/acceleration is way beyond posted limits!
Jaguar knows a thing or two about brakes. After all, the company was the first to fit disc brakes to a production vehicle. Apparently, they haven't forgotten this as the brakes on the 2014 Jaguar XJL are some of the best around. Smooth in operation, yet powerful when required.
Inside & Out of the 2014 Jaguar XJL
It's no secret that I like Jaguar products. Until a decade or so ago, I worked on them daily, although much of this was due to the fact that a Jag tech could make decent money fixing all the issues that came with Jaguar ownership. Those days are long gone -- or so I'm told by colleagues still in the trade. Apparently, it's a completely different Jaguar world today.
Yes, although it still is one of the biggest secrets in the industry, Jaguars of today are much more reliable than the models I worked on. They're also much better equipped, which is obvious the moment you slide inside one. An 8" touchscreen dominates the sculpted centre dash and owners enjoy complete voice-activated control of audio, GPS navigation, and Bluetooth systems. For the rear-seat passengers, there are individual screens which rival the size of a laptop computer, and we even see the return of picnic tables (work stations as they're now called). Jolly nice, indeed!
However, my test vehicle came fitted with some sort of carbon-fibre interior trim that is a little like painting a Mohican haircut on the Mona Lisa and saying how you've improved her looks. Sorry, but this is not for me, as I still view finely polished wood veneers as the perfect partner to scrumptious leather. Call me old school if you like, but there are limits and fancy-named plastics simply cross the line.
Comparing the 2014 Jaguar XJL 3.0L AWD
With every brand attempting to play in the high-end luxury market today, there's more competition in this arena than you can shake a stick at. However, being old school and knowing this market reasonably well, I still feel Jaguar's only true competition comes from its European playmates (Mercedes-Benz/BMW/Audi/Porsche).
Road Tests and Reviews

Consumers
2014 Jaguar XJ Series XJL 3.0L AWD Portfolio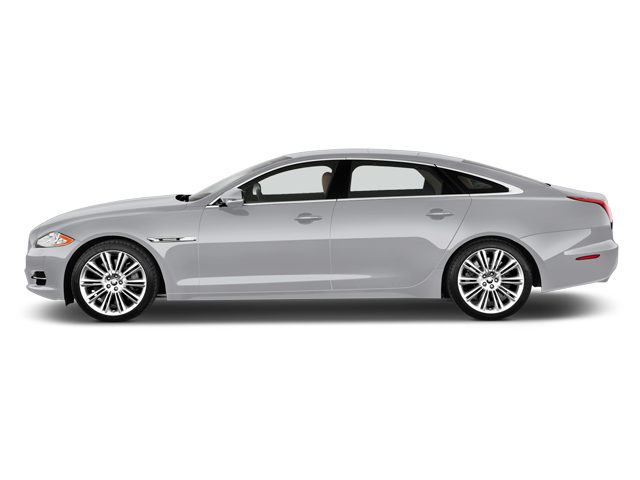 2014 Jaguar XJ Series XJL 3.0L AWD Portfolio