The crossover segment is absolutely booming, like rabbit colony booming, like wildfire booming, just absolutely exploding. And there's a very logical explanation for it: manufacturers are getting smart and offering up almost-equal amounts of interior space and amenities as their SUVs for much less money (plus, most of them look damn good, too), and they're all more fuel efficient so less money at the pumps. It's a win-win-win situation, really.
So, Lexus decided to get in on the madness with their brand new 2015 Lexus NX. Brand new for this year and brand new to the lineup, this luxurious crossover checks all the right boxes, on paper. However, behind the wheel it's not all sunshine and roses.
If it were just a looks game
Lexus would have it mostly in the bag if the crossover segment war were won on looks alone. There's no denying this is an extremely pretty CUV. Sporting the new spindle front grille (and in F SPORT guise as per my tester, the better-looking version of said grille), and dynamic, multi-layered headlights along with the sculpted sides and angular, modern rear, the 2015 Lexus NX is what some might call stunning.
I'm all for the look, save for the rear. There's something "off" about the taillights. Whereas the Nissan Murano pulls off the pinched, angled rear lights, there's something unfinished about the Lexus NX. Perhaps it was in the body colour that I felt the lights just kind of blended in too much… However, there's no denying this vehicle grabs attention wherever it goes.
Inside, the 2015 Lexus NX 200t features the company's new centre stack design look, complete with their Remote Touch Interface. What is that you ask? Well, according to Lexus it's an award-winning trackpad/mouse-like/haptic system that lets you control the cursor on the main entertainment screen. However, according to me (and almost every other journalist I've spoken to) it's an annoying, distracting, hard-to-use novelty item that Lexus is using simply to make themselves "different" (when in actually fact, they are just doing a poor version of Audi and Merc's trackpad systems…).
That aside (and thank God for buttons), the cockpit of the 2015 Lexus NX 200t is a pleasant place to be. I adore the simplicity of the gauge cluster, and the steering wheel is chunky and comfortable to hold. While some may find the quarters a bit tight, I enjoyed the cocooned feel it gave. All surfaces are soft-touch, with ample padding on the side arm rest and centre arm rest (which also houses a wireless charging tray, compatible with everything but iPhones…). Oh, there's even a little mirror you can pluck out of the middle. Why? I'm not so sure, however, it's a surefire way to pigeonhole your car as being built for women… just sayin'.
Space in the rear is adequate, though I did bump my head a few times on the rear doorframe while strapping my son into his seat. He found it amusing. I did not.
Unfortunately, it's not
Let's start with the good stuff first: The 2015 Lexus NX 200t is the first Lexus to feature a turbocharged mill. More specifically, it's a 2.0L 4-cyl that produces 235 horsepower. The engine is eager to please, though perhaps not as powerful as one would hope in a vehicle this size.
Three drive modes change things up slightly (Eco, Normal and Sport). In Eco, the usual molasses-type driving ensues, whereas in Sport revs are held longer, and throttle response is sharpened ever so slightly, but again not so drastically.

While the 2015 Lexus NX 200t is highly capable and pleasant to drive, it's not incredibly exciting either. It was comfortable and handled well, with minimal body roll in corners, and responsive brakes. I didn't hate it, but on the flip side, it did nothing for me.
I wanted to like driving the 2015 Lexus NX 200t, I really did. I had high hopes based on curb appeal and the addition of a turbocharged mill. I wanted it to excite me, I want it to wow me. And it just didn't. It simply … was.
A foot in the game, but nothing more
And here's where Lexus needs to step it up. Sure, they've brought a player to the crossover segment, but if all that player does is sit on the bench while the others have at it on the field, then they could have saved themselves a ton of money and focused more on their bread and butter (full-size sedans and hybrids).
When it comes to said competition, I would drop my dollars on an Audi Q5 (despite looking long in the tooth) or an X3 (preferably diesel for a few grand more).
Throughout the entire week, my son asked me often: "But, mummy, why?" And it was usually after he'd point out a design element on the NX or when I pulled out the mini mirror or when I'd smack my head on the doorframe (after he was done laughing). And for every "why" he asked about the Lexus NX all I could answer was, "Because they're trying, love." He seemed satisfied with the response, but I'm not sure Lexus should be.
Road Tests and Reviews

Experts

Consumers
2015 Lexus NX 200t F SPORT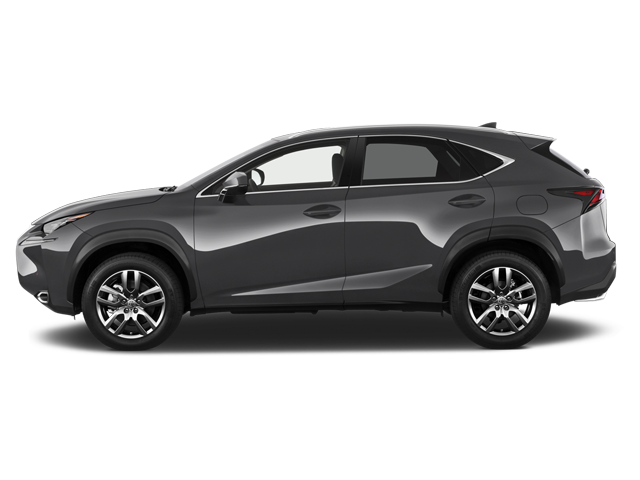 2015 Lexus NX 200t F SPORT