Today, more shoppers than ever before want key crossover benefits like AWD, elevated ground clearance, cargo flexibility, and a taller driving position, but without the bloat and dumpster-like handling of a larger ute.
So, a new breed of small crossovers -- like the new 2016 Audi Q3 -- are becoming big business as those shoppers look to upgrade from a smaller luxury car into something with more space or to downsize from a bigger, thirstier SUV into something smaller, more maneuverable and easier on fuel. If you like the idea of rocking a crossover, but aren't interested in excessive fuel bills and parking-related clumsiness, there's never been a better time to be shopping this segment.
If you're already in a few-year-old Audi and upsizing or downsizing into the new Q3 or if you're new to the brand, you'll find plenty of key Audi attributes at work, which is a good thing.
Styling includes all modern Audi cues, including an unmistakable grille, an athletic stance, and the almost artful use of LED lighting for a unique illumination signature after dark.
However, it's on board where the Q3 likely hits hardest.
The familiar Audi MMI interface lets drivers use a knob and control pad to manipulate hundreds of functions on the central display. The graphics are clean and tidy, just like the beautifully simple instruments, and the overall look throughout the cabin. There's a graceful simplicity: At a glance, it's tastefully restrained, modern, tidy and formal. Look more closely, and it's got numerous subtle details that help convey a premium look and feel, not one or two major styling elements. Right down to the lack of hard edges, and the use of matte black and aluminum finish for trim, it's the clean overall design and little details and touches that come together to help the Q3's cabin punch above its weight.
In the back, there's a rake to the hatchback, meaning the cargo area is wide, though not tall right to the rear. Still, I had no issues with space on board for a hefty load of Costco groceries, my canine, some camping gear, and the like. The power tailgate offers up one button to open it, and another to close it and lock the Q3 up. If you're unloading an armful of shopping and the keyfob is buried away in your pocket, simply press the "close and lock" button, grab your things, and walk away -- fumbling for the keyfob like a peasant is not required.

Rear seats fold almost totally flat to enhance cargo space, and when flipped up, rear seat room is sufficient for two adults to lounge in comfort.
There's plenty of headroom on offer, even with the panoramic roof. Occupants plunk down into the 2016 Q3 a little upon entry, meaning no step-up inside, even though the driving position is still on the tall side. This is perfect if you've got a puppy, a senior dog or an elderly or mobility-challenged passenger, who will likely find the Q3 easier than average to board and exit.
So, size-wise, for a shopper without big kids, a couple who typically travels alone but needs extra space from time to time or as a small, secondary luxury utility runabout for the fam, the Q3 is sized just right.
With 200 horsepower and a little more torque from the buttery-smooth 2.0L TFSI turbo 4-cylinder, you'll find refined performance that feels markedly effortless. Especially when driving gently through traffic or climbing highway hills with the cruise set, low-end torque reserves see the Audi Q3 glide along with minimal revs and downshifting. Opened up, acceleration is strong, should prove adequately punchy for most drivers, and notably, even when maxed to redline the engine never feels like it's out of its comfort zone. It's all the power most drivers will need -- a good thing, since no other engine option is currently available.
Fuel mileage on my watch, after some 1,200 kilometres of highway-intensive driving, landed well under 10L/100km on premium gas.
Ride quality should be scrutinized on a test drive of any unit with the S-Line package. With it, the tester got big, beautiful 20" wheels bolted to a sporty suspension and wrapped in thin tires with minimal sidewall -- meaning cushioning for rougher roads is limited. Added up, this puts ride quality at the mercy of the surface passing beneath, so if you're considering a model with the S-line package, be sure to visit the roughest road available on a test-drive to make sure you don't find the ride uncomfortable. If you do or if really responsive handling isn't a priority you'll probably do better in a unit with less wheel diameter and more sidewall for more cushioning and more comfort.
As equipped with the S-Line kit, the tester handled smooth highways nicely, though road noise levels were higher than some might expect from a luxury crossover, and the ride can become abrupt on rougher surfaces. Notably though, as sporty crossovers with big wheels go, the Audi Q3 S-Line is on the more comfortable side of the equation.
However, driving enthusiasts will accept the trade-off: Flick the drive mode selector to Dynamic, and recalibrations of the steering and throttle provide a more pleasing, instant response to your input, with a heavier steering feel for a direct feel of the road, and more precise steering responses. Set up thusly, the Q3 steers quickly, corners flat, and feels lively and mischievous when you browse some bends at speed.
A note: The optional LED headlights flood the road with clean white light that's easy on the eyes, offer plenty of peripheral illumination into the tree line beside dark highways, and engage reflective surfaces remarkably far up the road. This is a fantastic lighting system.
Complaints? Nothing major. Potentially rough ride with the big wheels aside, some of the controls are getting a bit dated inside, and there's a strange delay before the backup camera activates in reverse, so you'll have to wait a moment for it.
Ultimately, with pricing starting under $35,000 and the top-line tester starting in the low 40s with a stand-out interior, proven drivetrain, and numerous thoughtful and delightful feature and design touches, the 2016 Audi Q3 should prove a compelling way to drop your cash on a new little luxury crossover that's as sporty as it is luxurious.
Road Tests and Reviews

Experts

Consumers
2016 Audi Q3 Quattro Technik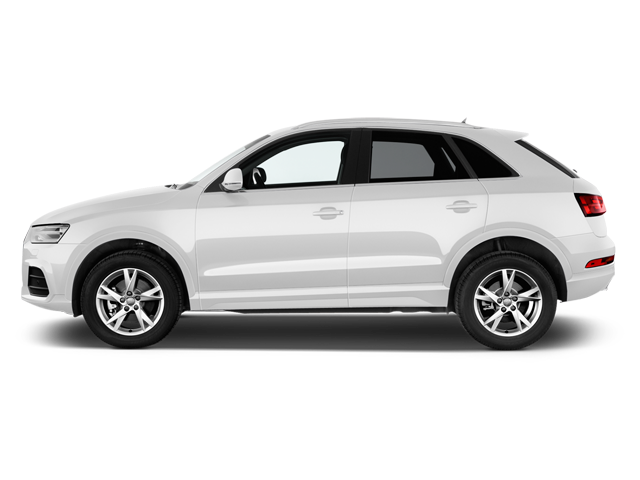 2016 Audi Q3 Quattro Technik