Let's face it: the Nissan GT-R is an odd creature. A high-level sports car, it doesn't just stand out when measured against what's available the car market in general, it's also distinct within its own universe, where roam unbridled speedsters tasked with one thing above all: delivering adrenaline in straight shots to those with the means to buy it.
That distinctiveness of the GT-R, when compared to a Porsche 911, Audi R8 or Chevrolet Corvette, for example, is undeniable. It doesn't look like its rivals, isn't designed like them, and in fact doesn't seem to care to fit the norms imposed by them.
Like it or not, the GT-R is different, in fact that's one of its defining characteristics. While the R8, 911 and Corvette tend to get fans drooling at the sight of them, Nissan's car doesn't really elicit that reaction. Some fall for it hard, while others are left pretty indifferent; a third, smaller group even finds it repulsive.
I may be exaggerating there, but my point is that this is one polarizing car.
We took the wheel of the GT-R recently to try to determine what, exactly, makes it so different.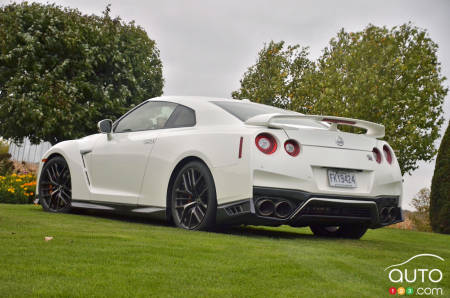 An aging design
Right off the bat, we have to point out an element that counts against the GT-R. The design of the current version of the model dates back to the mid-2000s. This generation debuted in 2008 as a 2009 model; inevitably, it's got some wrinkles, especially on the outside. Overall, though, time has been relatively kind to its exterior styling, and the fact that it is so unique on the market works in its favour.
Inside, however, is where the years have done the most damage. You can see it in the dials and various buttons and switches on the dashboard; they're an instant flashback to Nissan models of a decade ago. Fortunately, the multimedia system has been modernized and includes amenities like Apple CarPlay and Android Auto compatibility.
The seats could be more sculpted and flexible, and more adjustable as well. The single lever that serves to adjust them is needlessly complicated. This is one of the many little details that will have to get revisited when the model gets overhauled for 2020. Here's hoping.
This means that you won't get seduced by the interior of the 2018 GT-R, and actually, for the price, it's quite a compromise to have to make. Now, people buying this car do it for other reasons than the quality of the interior, that's true. But if I were preparing to shell out over $125,000 for a pure sports car, I would want it to be a premium product - inside and out.
This is what makes it so risky for Nissan to wait so long before upgrading and modernizing its driver's plaything. It's also what explains the model's sluggish sales (we'll get back to that).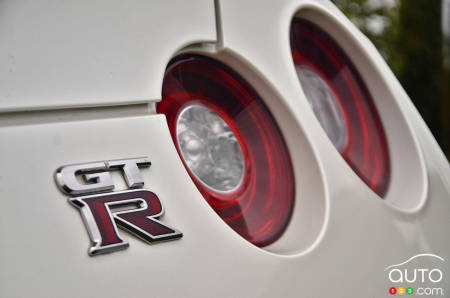 What matters
Let's put aside the faults related to its age – after all, this issue will be resolved within a year or two. Instead, we focus what really matters with a car like this: its mechanics, performance and, ultimately, the driving experience it delivers.
To the same degree that you won't really care about the number of cup-holders in a Chevrolet Corvette Z06, you won't be distracted by the aging interior of the GT-R when you're trying to tame the wild horse that is the GT-R.
And make no mistake, the car is a kind of wild horse. If you don't believe us, take a gander at its specs sheet. You'll see listed there a 3.8L twin-turbo V6 with an output of 565 hp and 467 lb-ft of torque. This power extravaganza gets the car from a stop to 100 km/h in a jaw-dropping 3.1 seconds.
This is at the level of a Porsche 911 Turbo S.
Tasked with delivering the engine's power to the wheels is a 6-speed automated manual transmission. Suffice ot say that that gearbox is not the most refined of its kind out there. Like the model it serves, its delivers an experience at the wheel that is noticeably different, but not always in a positive way.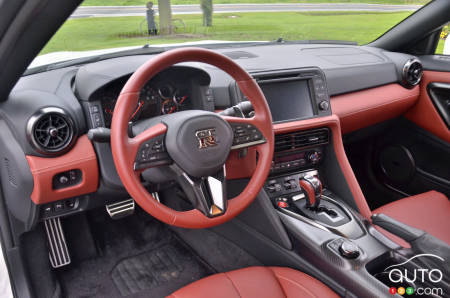 Taming the beast
I made reference to need to tame the GT-R when first driving it, and that was precisely how I felt when I first took it out.
If you're wondering if Nissan's sportiest sports car is a standard-setter in terms of performance and road handling, well, it isn't. I'll get into why not in a bit.
Getting back to the car, yes its power is monstrous and yes it's able to take corners at a frightening speed. Acceleration produces downright brutal force. The tires are very adept at sticking to the road, but on the other hand it's quite easy to start to lose control. Though when that happens, the drive-assist systems come into play to settle things down.
The steering is precise but requires a period of adaptation, mainly because it's so light. Over all, the interior is loud, much louder than in an ordinary car; sound insulation is insufficient and the tires on this performance car are particularly noisy.
As for the sound of the V6, no complaints there, although if you really want to set your arm hairs standing on edge you have to switch to S mode (done via a button located on the central console).
Conclusion
Driving the GT-R is certainly not dull, and the car clearly has exceptional performance capabilities. The problem is when you start to compare the overall package with rivals. Its advanced age means it rates poorly.
It's inevitable that consumers will make those comparisons, and if they want refinement and modernity, they'll lean toward the 911, the Corvette, or even, in the very near-future, BMW's revived 8 Series.
The next-gen 2020 edition can't come soon enough for the GT-R, remarkable as the current model is even in its aging state.
When that new generation does come down the pike, then we'll be able to test it out mano-a-mano with the models it battles against, in a fair fight.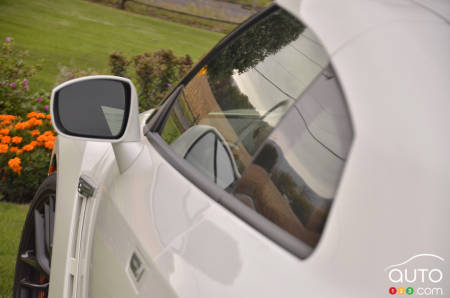 Road Tests and Reviews

Experts

Consumers
2018 Nissan GT-R