Hyundai Canada entrusted Auto123 with a 2023 Palisade Ultimate Calligraphy so that we could inspect it from every angle and report back to you. This is the seventh chapter our long-term review.
See also: 2023 Hyundai Palisade Long-Term Review, Part 1: The Origins of the Big Hyundai
See also: 2023 Hyundai Palisade Long-Term Review, Part 2: An Improved 2.0 Version
See also: 2023 Hyundai Palisade Long-Term Review, Part 3: Which Version to Choose?
See also: 2023 Hyundai Palisade Long-Term Review, Part 4: A Look Under the Hood
See also: 2023 Hyundai Palisade Long-Term Review, Part 5: Canada-Friendly
See also: 2023 Hyundai Palisade Long-Term Review, Part 6: In Praise of Access and Space
Is the Hyundai Palisade's standard equipment worth mentioning?
Short answer: Yes.
Long answer: From the moment they arrived in Canada, the South Korean automakers (I'm including Kia here) have built their reputation by offering Canadians value, value, value. A proven, time-tested strategy.
Hyundai/Kia had to look no further than the Japanese manufacturers who came before. When launching their luxury brands (Acura, Infiniti and Lexus), Honda, Nissan and Toyota offered vehicles as well-equipped as their rivals out of Europe and within the U.S., but at a much lower price.
As the brands gained better standing and ever-more customers, the price gap gradually narrowed.
History is repeating with Hyundai and Kia. Their products have evolved for the better, and now find themselves nose-to-nose with long-established brands. So much so, in fact, that Hyundai has in turn launched a posh division (Genesis) and Hyundai and Kia, the Battling Brothers out of Korea, have today become leaders in the field of electric vehicles.
Yet despite their successes, the automakers haven't strayed from their original formula: give the consumer more for their money. Of course, the extra extras they're giving are fewer than before, mainly because these brands no longer have to go to such lengths to draw in the customers. But still, when you look at the list of standard equipment, you can't help but be impressed. All in all, this value is an intrinsic part of Hyundai/Kia's DNA.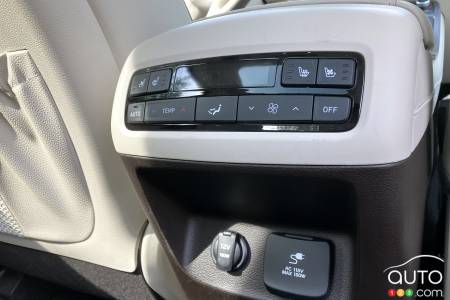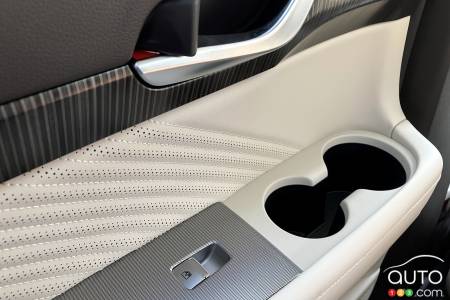 Can you give us some examples of this standard equipment?
For that, we look at the Palisade Preferred, the most affordable version of the 7- or 8-seat SUV (MSRP of $52,196, i.e. $49,499 + usual charges but excluding taxes).
The vehicle's primary clients being families, its designers made sure occupants of the two rear rows want for nothing. We already know they're spoiled for space. And that there are enough cup holders to precent arguments. But there are several USB ports, 12-volt and 115-volt sockets and even ventilated seats in the second row. That they're heated these days doesn't surprise, but that an entry-level model's rear seats can blow a refreshing breeze down passengers' backs on hot days is impressive.
If the passengers in the back want to take a nap by mutual agreement (if they're children, a nap is conceivable, a "mutual agreement" to do so, not so much), the driver can switch on the sound system's "silence" mode, so that most in-vehicle noises stay mostly in their own bubble up front.
Drivers get their share of spoils as well. If they're towing something behind them, the Palisade makes life easier with a system that limits the wobble of the towed object. On a freeway delivering all the excitement of a funeral procession? There's adaptive cruise control and lane keeping assist.
The first allows you wiggle your right foot when needed to wake it up, the second boosts peace of mind.
How does the Palisade's lane keep assist work on curves at 100 km/h? Answer: very well. Does it keep to the centre of the lane? Indeed, I've seen too many systems constantly vacillate between cheating to the right and cheating to the left. Which can be unsettling, and even a bit nauseating. The Palisade's system is stable and fair; It's even sophisticated enough to perform lane changes on its own, a feature I expected to find only if I went the luxury route with Genesis. All you have to do is activate the turn signal to let the vehicle know what you want it to do. As a bonus, it obeys by activating a camera that shows you if the lane is really free.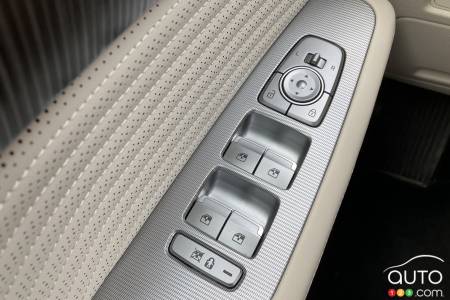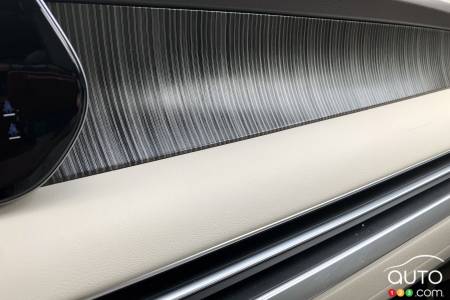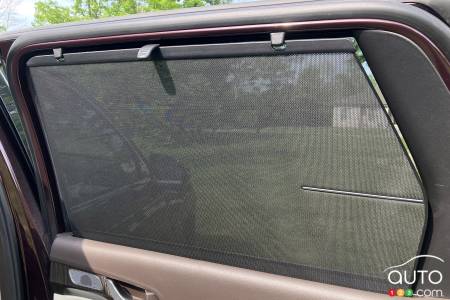 Does the Hyundai Palisade offer equipment usually reserved for more expensive vehicles?
For that, we turn to the Ultimate Calligraphy variant, the lineup's most upscale model and the one we've be testing long-term (starting price $60,996, i.e. $58,299 plus fees and taxes). I'm getting to know its little extras.
Like remote parking. Say you finally find a free space to park your Palisade, but eye's compass warns you that while the space will be fine for the vehicle, it won't allow you and/or your passengers to leave the vehicle unless you can suck in your gut so far it comes out your backside. Well, just get everyone out before – and yes, that includes you, the driver - and to the oohs and aahs of the cheering crowd, you remote-control your SUV into the space using your fob.
The list of extras also includes a head-up display, large sunroof encircled by rich suede, underfloor storage space dedicated to the unused luggage cover, eye-catching marriages of wood, leather and chrome in the doors, wireless charging for your phone, Ergo Motion driver's seat with programmable air pockets and peach-soft Nappa leather wrapped around it and the other seats.
The harman/kardon sound system does a good job, and its total of 12 speakers is decent, though we're a long way from the 36 of the AKG system in the Cadillac Escalade. On the other hand, if you want to chat with the occupants of the 3rd row, you can do so without shouting, thanks to the intercom that uses the speakers so that the limo driver (you) can fully understand the demands of the stars (your kids).
They can also protect themselves from the paparazzi thanks to the tinted glass and rear window blinds. But they'll have to raise or lower them manually, poor darlings. Wouldn't want them to get spoiled…
Specifications sheet of 2023 Hyundai Palisade Preferred 8-passenger AWD
Specifications sheet of 2023 Hyundai Palisade Ultimate Calligraphy 7-passenger AWD
Specifications sheet of 2023 Hyundai Palisade Ultimate Calligraphy 7-passenger AWD w/beige
Specifications sheet of 2023 Hyundai Palisade Urban 8-passenger AWD
Specifications sheet of 2023 Hyundai Palisade Urban 7-passenger AWD