Hyundai Canada entrusted Auto123 with a 2023 Palisade Ultimate Calligraphy so that we could inspect it from every angle and report back to you. This is the ninth and final chapter our long-term review.
See also: 2023 Hyundai Palisade Long-Term Review, Part 1: The Origins of the Big Hyundai
See also: 2023 Hyundai Palisade Long-Term Review, Part 2: An Improved 2.0 Version
See also: 2023 Hyundai Palisade Long-Term Review, Part 3: Which Version to Choose?
See also: 2023 Hyundai Palisade Long-Term Review, Part 4: A Look Under the Hood
See also: 2023 Hyundai Palisade Long-Term Review, Part 5: Canada-Friendly
See also: 2023 Hyundai Palisade Long-Term Review, Part 6: In Praise of Access and Space
See also: 2023 Hyundai Palisade Long-Term Review, Part 7: A Festival of Little Treats
See also: 2023 Hyundai Palisade Long-Term Review, Part 8: What About the Kia Telluride?
The automotive journalist needs well-developed critical eye. Like the archer who must keep their quiver full of arrows, we need ammunition at our disposal to appraise the vehicle being tested – and scourge it, if need be.
It being easier to criticize than to compliment, that can be abused. For a variety of reasons. Maybe we get up on the wrong side of the bed one day. Maybe we need somewhere to evacuate a foul mood instead of on a loved one.
Also, with so many new models flooding into showrooms year after year, lemons are kind of an endangered species nowadays. So when we notice a glaring gap, it's good for our morale.
And our credibility.
All of that is to bring me to this point: which is, that the Hyundai Palisade disappointed me. Why? Because it didn't allow me to let my hyper-critical flag fly.
Yes, it's that good. Not perfect, but good. Very good.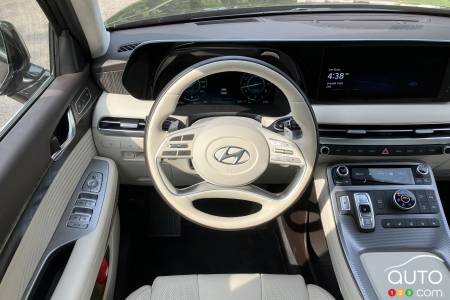 A few brickbats
Bad news before the good, because everybody loves a happy ending.
So no, the Palisade is not perfect.
I more or less liked the push buttons that control the 8-speed transmission. Their ergonomics may free up space in front of the dashboard, but they often hesitate before doing what you command it to. In the middle of winter, when you have to dig the vehicle out of a snowbank using the back-and-forth technique, it must be hell! It's a good thing all Palisades come standard with all-wheel drive, otherwise you'd be playing catch-up for a long time...
Also, naming a model Ultimate Calligraphy? Not sure about that. First, it sounds pompous. Second, it sounds too much like Land Rover's Autobiography versions. Mind you, this association was surely intended by the marketing gurus, but I believe that the Hyundai brand has grown sufficiently over the years to no longer resort to imitation.
When I wanted to take advantage of CarPlay on my iPhone, I had to connect the device to a USB cable. I want wireless!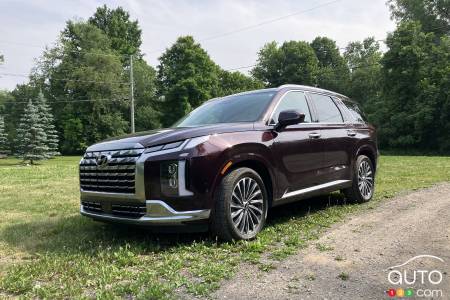 Finally, what follows is not so much a reproach as a warning: I don't know if it's possible to find an SUV that's this roomy and delivers a dynamic ride, but it certainly ain't possible here. You've come to the wrong place.
The Palisade's behavior is… worldly. Its suspension prioritizes comfort and its steering reflects this by being sufficiently reactive but devoid of emotion. Thrill-seekers will be disappointed. On the other hand, drivers looking for reassuring balance will be delighted.
Which is more of a bouquet than a brickbat I suppose. In any case, that's where are now: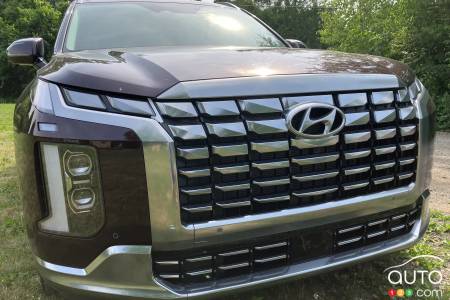 The bouquets!
To make my Cartesian mind sparkle, I've grouped my bouquets into four… bigger bouquets.
# 1 - The Palisade's look, and in particular its new grille, the one Hyundai designers inaugurated when they released the 2022 vintage. In my humble opinion, this geometric cascade of chrome makes for an original, distinctive and very elegant grille. When I parked the SUV in front of the house, I felt my humble abode take on airs of a mansion.
# 2 - The standard equipment included in the Ultimate Calligraphy version is very comprehensive, and a bargain for the asking price. Among them, I particularly like the sumptuous decor like the upholstered suede ceiling (a delight to caress), the soft, quilted white leather of the armchairs and the modern gadgets like the omnipresent cameras (bird's-eye views or during lane changes) and impeccable semi-autonomous driving system that offers hands-off cornering at high speed - just for fun - but also with no fear to be had.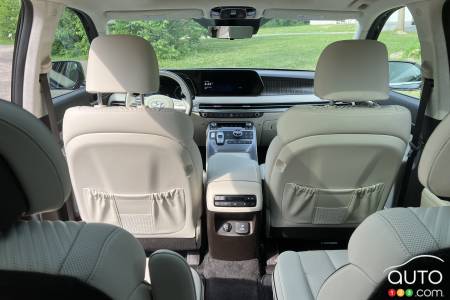 # 3 - The potential frugality of the 3.8L V6. If you permanently select Sport mode and regularly stomp on the gas pedal, to the point where the sides of your seat often tighten on your ribcage (I confess this sporty driving aid can engender a mini adrenalin rush), fuel consumption will climb happily along with your spirits. But if you opt for Eco mode and don't abuse the throttle, the miracle happens, with a consumption rating close to 8.0L/100 km. Two bonus words: regular gasoline.
# 4 - Space, space and more space! Whether for people or luggage. There are a few midsize SUVs that boast the ability to carry seven or eight occupants (Honda Pilot, Volkswagen Atlas, Mazda CX-90, among others), but I don't think any of them boast the ease with which access to the back seat has been thought out and, above all, the clearance and comfort that rewards occupants once they've settled in.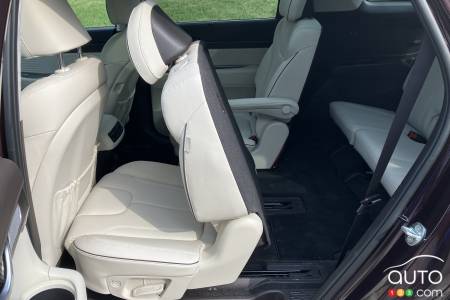 The final word
I still believe a minivan is the ideal vehicle for a family with young children who are constantly out and about, often with pets in tow to fill out the Norman Rockwell imagery.
But if your list of allergies includes one to minivans and the negative dull suburbanite image they're associated with, the spacious, smooth and luxurious Hyundai Palisade Ultimate Calligraphy SUV might be what the doctor ordered.