• Auto123 reviews the 2023 Hyundai Venue.
The Hyundai Venue, one of the most affordable compact SUVs on the Canadian market, stands out in several ways. First of all, it's small without compromising interior space. Then there's the wide range of comfort and, above all, safety features on board. And, above all, for all that this remains a model that is accessible to buyers on a budget.
Specification sheet of the 2023 Hyundai Venue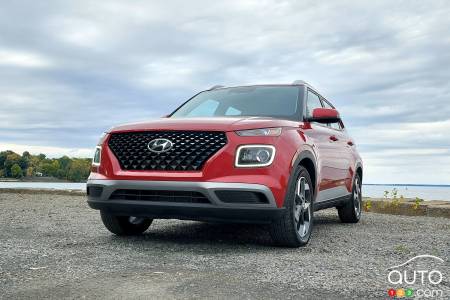 Hyundai Venue: what's new in 2023
While the exterior design remains unchanged, the 2023 model-year brings its share of updates for the Hyundai Venue. The Korean automaker has integrated rear-seat alert, a particularly useful and valuable feature for drivers who tend to forget objects, pets or small humans in the car. This function sends a visual and audible alert to remind the driver to check the rear seats before leaving the vehicle.
Hyundai has also added a standard central armrest, enhancing overall comfort for driver and front passenger. Another notable addition is the digital display in front of the driver, which now measures 4.2 inches and displays information in full colour, offering improved legibility and a more attractive interface.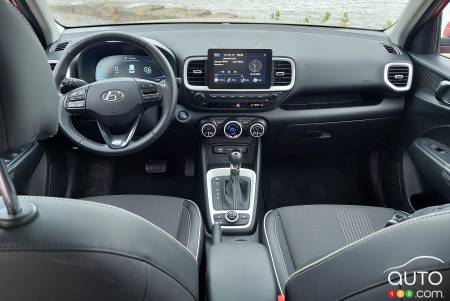 The interior of the 2023 Hyundai Venue
One of the most surprising aspects of the Venue is its relatively spacious interior. Despite its compact exterior dimensions, the cabin offers respectable space for both front and rear seat passengers. The seats are upholstered in quality fabric, and the materials used throughout the interior demonstrate an attention to detail often reserved for more expensive vehicles.
For 2023, the addition of a central armrest as standard on all models helps to improve comfort on long journeys.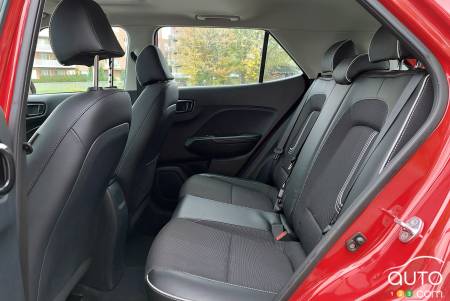 The Ultimate model, in particular, offers a host of enhancements, including heated seats, a leather steering wheel and wireless charging for smart devices. Features that were once reserved for vehicles in higher segments.
Let's be clear: this is not a luxury model. The multimedia screen is relatively small, there are few power controls except for the windows, there's no panoramic roof, etc., etc., etc. Keeping the price affordable does entail some sacrifices. But that's precisely what many consumers are asking for these days, when the average price of new vehicles continues to skyrocket. And I think most buyers will agree with Hyundai's strategy of focusing on offering as many safety systems as possible whilst keeping a lid on the selling price.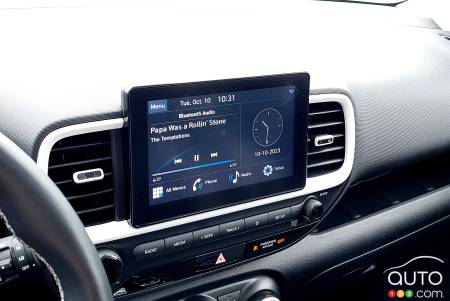 The multimedia system
The 2023 Hyundai Venue offers an impressive level of connectivity for the price. The infotainment system is centered around an 8.0-inch touchscreen that offers intuitive operation and fast response times. Compatibility with Apple CarPlay and Android Auto is included as standard.
For those who want a little more, the Preferred model offers 15-inch wheels, push-button starter, heated steering wheel and a remote starter.
The Ultimate version adds 17-inch wheels, a 6-speaker audio system, automatic climate control and a sunroof.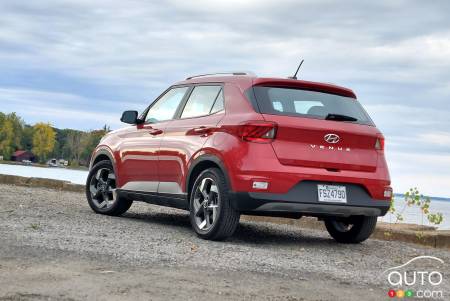 The 2024 Hyundai Venue: performance and powertrain
The Venue is powered by a 1.6L 4-cylinder engine producing 121 hp and 113 lb-ft of torque. Coupled with a continuously variable transmission (CVT), this engine offers adequate performance for city driving. However, don't expect blistering acceleration or impressive power on the highway.
This vehicle is only available in front-wheel-drive configuration, which may disappoint those seeking maximum reassurance in winter or wet weather. Nevertheless, the Venue shines in terms of maneuverability, especially in tight spaces, thanks to its tight turning radius and responsive steering.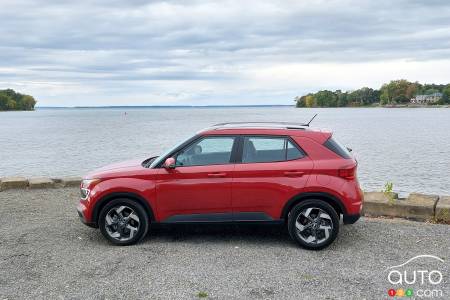 Priorities
A vehicle with a primarily urban vocation should offer good visibility, and the Venue's is excellent in all four directions. (My partner loved it for that alone and cared not at all about the absence of luxury extras).
Seating comfort is very acceptable for this segment. Again, nothing mind-blowing, but impressive quality for a vehicle of this price.
On the freeway, you're called to calm, because while the little engine does its job well, that job doesn't include raising pulse rates. For overtaking, the little 4-cylinder is competent enough not to excite/scare you either, but yes, from a stop, the Venue is quite pedestrian.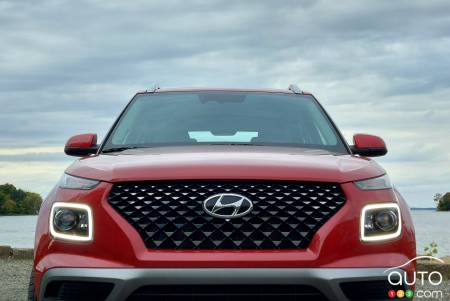 Fuel economy
The Venue is fairly economical on this count, with fuel consumption estimates of 7.9L/100 km in city driving and 6.9L/100 km on the highway. In combined driving, we recorded an average of 7.3L/100 km. While these figures are competitive, they don't beat class leaders like the Nissan Kicks.
That said, for a vehicle of this price and size, the Venue offers respectable fuel economy, which may be a deciding factor for budget-conscious buyers.
2024 Hyundai Venue - prices in Canada
As mentioned, the Venue is one of the most affordable SUVs on the Canadian market. The Essential model starts at $20,649, the Preferred model retails for $22,449, and the top-of-the-line Ultimate model costs $24,949 or more. The latter, "relatively" more expensive than the others, offers excellent value for money, given all the extra features it offers, including heated front seats, a wireless charging cradle for smart devices and an integrated navigation system.
The final word
The 2023 Hyundai Venue is a solid choice for those looking for an affordable SUV that's pretty practical and versatile (within limits - we're talking about a small model, after all). Its compact dimensions make it ideal for city driving and for commuting, while its spacious interior and numerous features make it acceptable for longer journeys.
While the Venue isn't the most powerful or luxurious of SUVs, it excels in the areas that matter most to value-conscious buyers: comfort, practicality and reliability. If you're prepared to make a few compromises when it comes to power, performance and extra perks, the 2023 Hyundai Venue deserves your attention.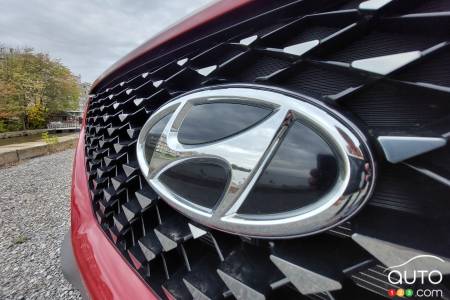 Competitors of the 2023 Hyundai Venue
The Venue faces strong competition in the small SUV segment, notably from:
Chevrolet TrailBlazer
Mazda CX-30
Mitsubishi RVR
Although these models are slightly more expensive, they generally offer slightly better performance and more upscale interiors. However, the Venue holds its own thanks to good fuel economy and a host of driving aids included standard.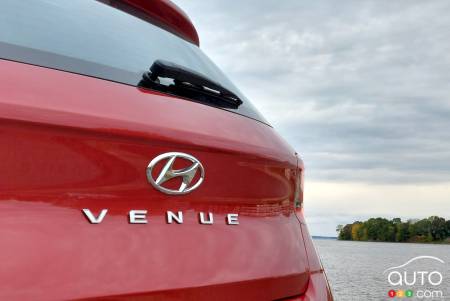 Road Tests and Reviews

Experts

Consumers