• Auto123 reviews the 2023 Mercedes-Benz EQE 500.
Few automakers are electrifying their lineups quite as quicky as Mercedes is doing with their EQ line of cars and SUVs. It seems like just yesterday we saw the arrival of the EQS sedan (actually it was just over two years ago). Behind it have come the EQB small crossover, the EQS SUV and this EQE sedan. It won't be long before we get an EQE SUV as well. That's five models in three short years, which is impressive.
The EQE is a bit of a curio in that it occupies a segment – mid-size luxury sedan – that isn't exactly hot. So it probably needs to be pretty special to stand out.
Specifications sheet of 2023 Mercedes-Benz EQE 500 EQE 500 4MATIC Sedan
Specifications sheet of 2023 Mercedes-Benz EQE 500 EQE 500 4MATIC SUV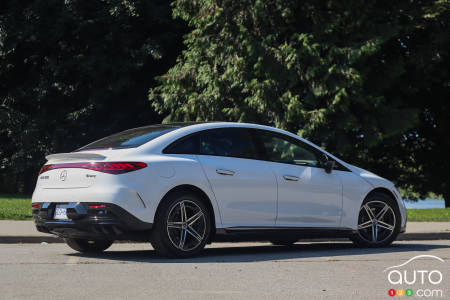 Exterior of the 2023 Mercedes-Benz EQE 500 – 8/10
The EQE sedan's big brother the EQS is a unique-looking vehicle, but unique doesn't necessarily mean good or handsome. While the EQS has its strengths, it's also saddled with some strange proportions, for instance that long wheelbase that you can't help but see from the side profile view.
The EQE compact car is a better fit for the body style, which you could fit into the four-door-coupe format Mercedes effectively started with the CLS. The roofline follows a distinct arch that culminates in such a short rear deck you'd think it's a hatchback. But there's actually a traditional trunk with a generous opening and low load floor. Such are the benefits of having your batteries -- effectively your driveline -- stuffed way down low into the floor. Yes, the front overhang is a little on the long side but otherwise, there are some nice lines here.
A nice detail is the set of five-spoke 19-inch wheels with aerodynamic inserts, just the right size and a good mix of traditional and modern. Also the taillamp lens shape is right on. Some may raise an eyebrow at the front fascia which looks a bit like a bandit's mask, but that's the kind of uniqueness you want from an electrified vehicle and it looks surprisingly aggressive.
These was a time when people didn't want their EVs to look futuristic, but you can sense a change in that regard when you consider stuff like the Hyundai Ioniq 5/6, BMW iX and Rivian R1S. It's an indication that EVs have moved beyond anomaly and are now part of the landscape. The styling languages crafted by automakers are having to keep pace.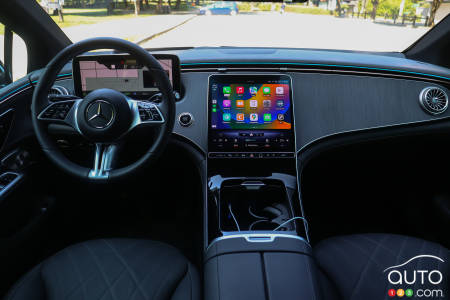 Interior of the 2023 Mercedes-Benz EQE 500 – 8.5/10
In the EQE 500 we drove, the dash is dominated by large swathes of open-pore wood as opposed to the MBUX hyper screen (more on that below). Other materials include ultra high-quality Nappa leather finished in Space Grey (a $1,780 option), which combines with broad, curvaceous panels to offer a pleasant and open ambiance. Those and the metallic detailing, contrasting black inserts and panoramic moonroof make for a calm place to sit, reflecting the quiet nature of an electric car.
Of course, with a sloping roofline and roof like that some sacrifices had to be made, which means rear-seat passengers may wish for a little more headroom. That's an issue with the larger EQS as well, but in a huge car like that, the issue's harder to forgive, especially since you could see that vehicle being used as a chauffeured vehicle. Not so with the smaller EQE; owners may not be as concerned about rear seat space so long as the kids can fit comfortably inside.
They might ask for a front trunk, though, and this does not have that. In fact it doesn't have a hood of any kind, meaning fewer panel gaps and a quieter ride, which is one of the top goals laid out by Mercedes-EQ when designing this car.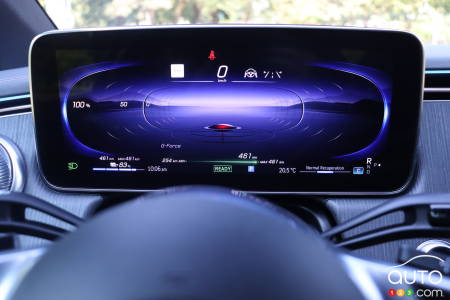 Tech in the 2023 Mercedes-Benz EQE 500 – 9/10
You can get Mercedes' huge Hyperscreen that spans the width of the dash, though our tester didn't have it. Instead, we had the standard 12.3-inch widescreen display and digital gauge cluster and you know what? That suits just fine. It saves $9,900 off the purchase price and it's large enough to easily identify which menu buttons you're after. It's responsive, too, so you're never left poking and prodding until the cows come home.
It's also here where you'll find the augmented reality navigation, and Mercedes' is one of the best versions. When a turn instruction is coming up, the central display becomes a camera looking ahead, onto which arrows and street signs indicating your move are superimposed. Essentially, for you to miss your turn, you have to drive "through" the arrows displayed on-screen.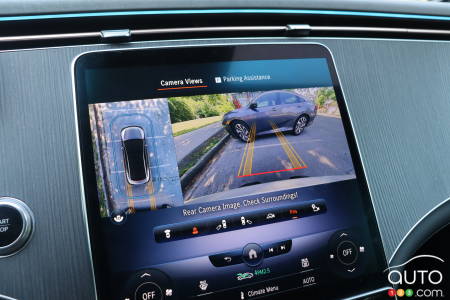 As far as other features go, you get a hi-def 360-degree backup camera as standard, wireless Apple CarPlay and Android Auto – easily accessed via a handy button in the top left corner of the main display – and the ability to navigate the display via touchscreen, touch-sensitive pad on the steering wheel or voice. A select few systems can be handled by a button-touch panels hybrid at the base of the display.
All in all, tech in the EQE 500 is top-drawer, with crisp graphics, responsive controls and a cleanliness that keeps clutter down. It's one of the best systems in the business. There's even an interior ambiance mode that can mimic the feeling of sitting by the sea by having the air gently pulsing out of the vents.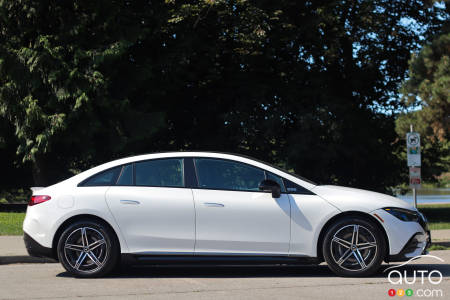 Driving the 2023 Mercedes-Benz EQE 500 – 8/10
The EQE doesn't just look like a more athletic version of the EQS, it drives like one. Its steering is firmer and since it weighs less, I found the front-end to be more responsive to steering inputs. That's helped by the rear-wheel steering, which will swivel the rear wheels up to 4.5 degrees in the opposite direction of the fronts during slow manoeuvres, effectively shrinking the wheelbase and turning radius. At higher speeds, they'll swivel the same way as the fronts for more stability. It's odd at first, but since you've only got 4.5 degrees of rotation here, you don't get the feeling like the rear end is on casters as you do in some other sedans that use this tech. That said, you can upgrade to 10 degrees, which I fear would start to feel just a little too alien.
Power is rated at a combined 402 hp and 633 lb-ft of torque from a 90.6-kwh battery as well as 418 km of range. That means it sits at the top of the EQE lineup when it comes to range, with the more powerful AMG EQE offering more power but less range. Surprisingly, the single-motor EQE 350 offers the same range even though it weighs less. American consumers, meanwhile, get an EQE 350+ RWD model with more range that isn't available here.
Did you catch that torque figure? It means pulling from stop to 100 km/h takes under five seconds and even when at-speed, the response from the powertrain is right on and never feels underpowered, which is not something that can always be said of EVs. It's all super quiet as well, so you do have to keep a close eye on your speedo because speed trap-baiting three-figure speeds are never far away. This thing is properly fast, make no mistake.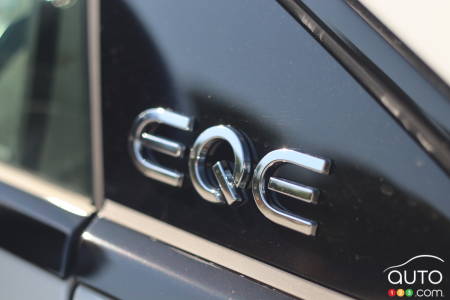 There being an AMG model, this EQE 500 can't just be about accel times and top speeds. It needs to be able to handle well in the bends and most importantly, it needs to be smooth. Indeed, even without the optional adaptive dampers or air-ride suspension, the EQE is a joy to pilot through the creases, cracks and crumbling tarmac Canadian cities are so well known for. Everything is swallowed up with gumption and since it has such a long wheelbase, the stability is improved, up-and-down movement reduced.
Basically you have a compact-mid sizer that drives like a bigger, more insulated vehicle and in this case, that's a good thing. Even the brakes have been tailored to have a little more feel, with less of the mushiness often associated with EVs, even those made by Benz. You're going to dab the brake pedal and get the grabbiness of a sport car outfitted with carbon ceramic brakes, but there's enough confidence-inspiring response here to have you forget the EQE 500's near-3,000-kg curb weight very quickly.
So what of that 418 km of range? Well, we saw a claimed 500 km on 91 percent of charge – nor bad – but after driving about 230 km, we saw that number reduced to about 190 km of range and 35 percent of charge, which is a good 80 km less than what we originally set out with.
Most owners will rarely take their EV below 50 percent before charging, so this is not a huge deal, but I would liked a little less optimism from Mercedes in the first place. Of course, these cars do have a memory; maybe I had a heavier foot than the person that had my tester before I did.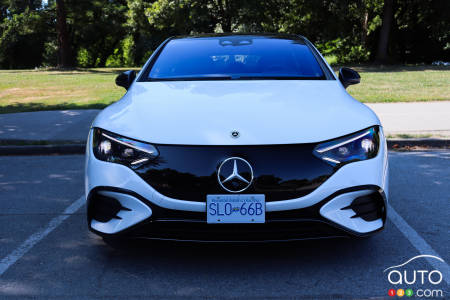 Some of your questions about the 2023 Mercedes-Benz EQE 500
How big is the trunk in the EQE 500 sedan?
You can store up to 430 litres in the trunk, easily accessed by a wide opening. Better still is the ability to power-fold the rear seats by pressing a trunklid-mounted button.
What wheel sizes can you get on the EQE 500 sedan?
Our tester sat on 19s, but 20s and AMG-style 21s are also available. Just know that the larger wheels may hurt your range.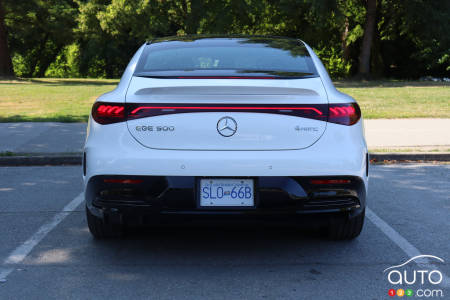 The final word
I won't harp on range too much here. The EQE 500 is just so strong in every other facet (and can charge on a DC fast charger at up to 170 kw, for a 10- to 80-percent charge time of about 30 minutes) that I can't help but sing its praises. The interior is well sorted, the powertrain and chassis responsive and the looks superior to that of the EQS. Plus it ticks the boxes a luxury EV should tick. It will surely get spanked by its EQE SUV sibling in the sales department, but among electric luxury sedans, it's a knockout.
Strong points
Great interior fit and finish
Surprisingly spacious
Cool tech
Good power and range
Weak points
Some styling question marks
No frunk
Not exactly inexpensive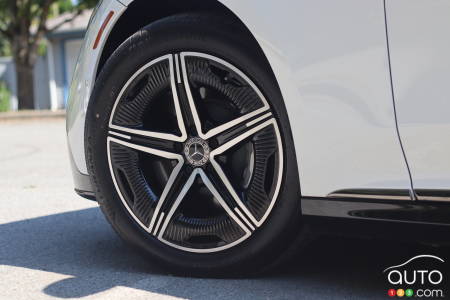 Competitors of the 2023 Mercedes-Benz EQE 500
BMW i4
Genesis G80 Electric
Tesla Model 3