2003 Buick Centieme Concept - A Milestone Design from a Milestone Automaker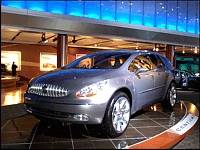 The Buick Centieme at the North American International Auto Show in Detroit, where it was introduced. (Photo: Trevor Hofmann, Canadian Auto Press)
Is the Centieme another look at a future GM product or just a revitalized design department's whim of fancy? Buick dealers should hope the former 'cause it's downright gorgeous. I never thought I'd say that about an SUV cum minivan, or should I say 'crossover', but there's really no denying it. But sensuous designs are a thing of habit for the Bertone design house, where the Centieme was built.
Its rounded, organic shapes fly in the face of current edgy trends coming from domestic rivals, a refreshing change. Its wide track and low roofline gives it an aggressive posture, contrasted by artful teardrop headlamp clusters and Buick's classic chrome oval grille. The oval theme continues to its wraparound taillights that also mimic the long, narrow side windows edged with a thin rim of chrome trim to give them a pillarless appearance. Buick chose a beautiful blue-red metallic shade called canyon mist to set the Centieme apart from the pack.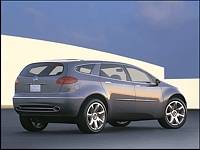 "Centieme conveys the essence of Buick beauty with an appeal to younger customers," stated exterior designer Gary Mack.
Getting a younger forty something crowd to buy into the Buick name is currently a tough prospect, but possible if Buick first brings something like the Centieme to market and second makes it drive as impressively as it looks. Being a concept its 3.6-L V6 is over the top powerful making 400-hp and 400 lb-ft of torque via twin-turbochargers. If it were produced now the Centieme would most likely be equipped with Buick's 240-hp 3.8-L supercharged V6. Its 4T65-E 4-speed automatic transmission would probably go into production relatively unchanged, but it's anyone's guess as to whether GM would offer its tap-up/down steering wheel mounted shift controls in a Buick crossover.