After displaying the concept version of
ActiveHybrid 7 at last year's Toronto auto show
, BMW is all set to show us the production version at this year's show.
ActiveHybrid 7 is one of two hybrid models the automaker will introduce to the Canadian market this year. While the other hybrid — the
ActiveHybrid X6
— is a two-mode hybrid and can therefore be driven solely on electric power at times, the ActiveHybrid 7 is a "mild" hybrid; its electric motor will always work in concert with the big 4.4-litre V8 gas engine lurking under the front hood.
Not that this new twin-turbo direct-injection V8 needs any help; it makes about 440 hp and 480 lb-ft of torque. The electric motor sandwiched between that gas engine and the torque converter will effectively boost the power quotient to 455 hp and 516 lb-ft of torque.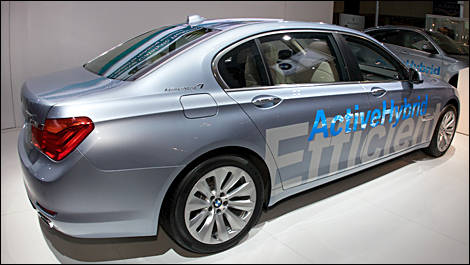 photo: Michael Wong
So while the hybrid is "mild" the performance should be anything but… BMW says ActiveHybrid 7 will jump to 100 km/k from a dead stop in 5 seconds.
The electric motor system and the new 8-speed automatic transmission were developed jointly by BMW, GM, and the entity formerly known as DaimlerChrysler. The motor gets its juice from a specially designed lithium ion battery, which resides in the lower recesses of the trunk. Apparently the compact battery only eats up less than 30 litres of trunk space (so 460 litres is still available), and helps the vehicle achieve optimum weight distribution.
The automakers also says it will use 15 percent less dinosaur juice than the "regular" 750Li "long-wheelbase" 7 Series model (on which this hybrid is based). Aiding the fuel economy cause is an engine auto start-stop function, for when the vehicle is stationary at traffic lights and such. BMW adds that unlike other auto-start systems, this one will keep the air-con and heating at the prescribed settings, a nod to the luxury theme of every BMW 7 Series. (You can also get rid of auto start-stop by keeping the transmission in Sport mode.)
Only the extended-wheelbase model comes to Canada; it is 5.5 inches longer between front and rear wheels compared to the regular 7 Series, and most of that extra length goes to rear-seat legroom. Prices yet to be announced, but expect a sizable premium over the 750Li, which already asks $113,200.
The obvious competitors to ActiveHybrid 7 are the new Mercedes-Benz S400 BlueHybrid, and the Lexus LS 600hL, which started this whole luxury hybrid niche.
One wonders how big is this niche — where customers pay quite a bit more money for hybrid technology and some extra performance, but do not receive a huge whack of fuel economy in return. But that's probably just us… Intended customers probably look at all that extra umph and delight in the fact that it comes at absolutely no expense to fuel economy.