I wanted to sound like Charlie Rose but I probably sounded more like Larry King, and I'm certain that's more flattering than deserved.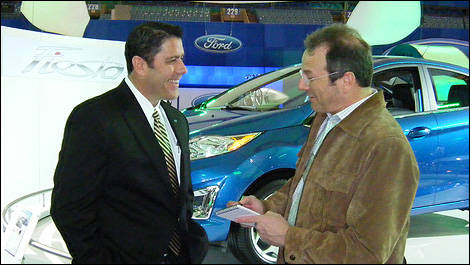 Photo: Christine Hollander
I sat down with David—since our chat was so amicable I think I can now call him David—at the 2010 Vancouver International Auto Show and let go with what was on my mind. You see, I had just enjoyed the privilege of hearing David Mondragon, President of Ford Canada, address the media in attendance at an Auto Show breakfast.
During his oration, David spoke passionately about the cavalcade of small, high quality fuel-efficient vehicles that Ford has planned for Canadian roadways. And while this sounded like prudent business planning—economies of scale, global relevance yada yada yada—I wondered what Ford had in their future for me.
I'm one of those multiple personality individuals that use their vehicles for much more than just enviro-responsible commuting. Skiing, biking, kayaking and the like come to mind along with yard work, kids, dog and Costco.
Naturally, I wanted to know what Ford's future holds for me. The news is good. David revealed a bit more about the much-awaited new Ford Explorer, a vehicle that I would have a definite interest in.
The existing Explorer will morph into a crossover format from its present SUV configuration. In doing so, a full-time all-wheel-drive set-up will replace the current four-wheel-drive arrangement. Gone as well will be the venerable V8—replaced by Ford's latest engine variants, including the powerful EcoBoost V6.
So, a little less rugged but definitely a whole lot more civilized sums up the 2011 Explorer. The modern iteration of this long-lived champion of the recreationally minded will also improve upon fuel economy by 25% while still providing the bulk of owners with all the traction, performance and practicality they need and expect.
In addition to the future Explorer, David pointed over his shoulder at the 2011 Ford Edge that was on display. In spite of its relatively recent arrival on the market, Ford has heavily revised the Edge for 2011. Look for a new 3.5-litre Ti-VCT V6 powerplant and Ford's "
MyFord
" touch interface technology.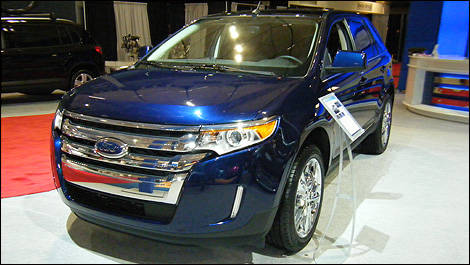 Photo: Rob Rothwell/Auto123.com
One last vehicle that we discussed was the curious but infinitely practical Transit Connect. This compact, somewhat industrial offering is like an unpainted canvass awaiting the imaginations of those with vision and a broad range of economical transportation needs. A bike rack here and a pullout bed there…so many possibilities.
As if completing a therapy session, I wrapped-up my discussion with David feeling that I too had a future with Ford. Life is not all about small, economical cars—it's about living outside the box. And in Canada, "living outside the box" is living outside—as in the great outdoors, and I'm glad to say that President David gets that.