Unveiled at the
Geneva Motor Show
in March of 2011, the
Ferrari FF's
debut generated scores of headlines, its presence capturing the attention of press and show-goers alike. Like it or love it – is there a certain decimal point past which a humble station wagon becomes an elegant shooting brake? – Maranello's latest offering makes a polarizing statement.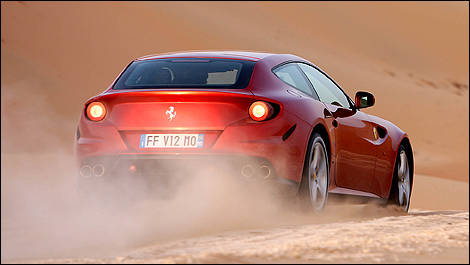 Unveiled at the Geneva Motor Show in January of 2011, the Ferrari FF's debut generated scores of headlines, its presence capturing the attention of press and show-goers alike. (Photo: Ferrari)
Touted as the replacement for the aging 612 Scaglietti, the 2+2 FF (for Ferrari Four referring to four seats and four-wheel drive) is so much more than that. It represents some groundbreaking innovations for the prancing horse–the most important being its patented four-wheel-drive system. Ferrari claims this system (known as 4RM or Route Motorize translates to 4-wheel drive in Italian) is 50 percent lighter than a conventional setup and maintains a rear-biased 47/53 weight distribution.
It's the first all-wheel drive vehicle produced by the venerable Italian brand, and probably the closest concession to practicality this maker of highly desirable exotic sports cars has ever made.
But it's not the trick new 4RM system that's garnered the lion's share of attention. Let's face it, to the Ferrari faithful, the very idea of a four-seater bearing even a whiff of station wagon is tantamount to sacrilege. And yet, this isn't Ferrari's first foray into the shooting brake layout; the Pininfarina-penned 365 GTB/4 introduced in 1968 has since become an icon of design.
The FF's existence is no doubt partly in response to the expanded practicality offered by the
Aston Martin Rapide
and
Porsche Panamera
. It offers positively voluminous interior space for a Ferrari: 450 litres (or 16 cu ft) with the rear seats up, and a cavernous 800 litres (28 cu ft) with them down. The cabin is replete with luxurious trimmings, with a choice of six colours and the use of high-tech materials. All four bucket seats are formed from lightweight magnesium and upholstered in rich leather that's been specially enhanced for softness. Entertainment technology includes a rear-seat infotainment system with dual screens for both DVD and TV and a 16-channel, 1,280-watt surround-sound stereo system.
The cabin is replete with luxurious trimmings, with a choice of six colours and the use of high-tech materials. (Photo: Ferrari)