The latest
Nissan Altima
is a well-to-do sporty sedan that uses innovative features and hardware to set itself apart from a wide range of worthy competitors. On a recent test drive, your correspondent was most impressed by its up-level V6 drivetrain, excellent mileage and roomy, relaxing cabin. Pricing starts under $24,000 for the 4-cylinder, and under $30,000 for the big V6.
Give this one a test drive if you're after a family-ready muscle sedan that works hard to stand out.
Roomy, Unique Cabin
First thing you'll notice on a test drive? The interior. It sets the 2013 Nissan Altima apart with its clean, tidy and focused design rather than an overly depth-y, intricate and highly decorated one. There's a refreshing and sporty sense of simplicity in here. It feels and looks clean and organized, not overdone.
The Altima's cabin is also easy to enter and exit, has plenty of room, and a largely intuitive layout to the controls. Storage abounds, and your writer especially appreciated a glove box large enough to swallow his SLR camera and extra zoom lens.
Neat-o Features
A laundry list of innovative features sets the latest Nissan Altima apart, too. Link up your phone, and you can check for weather updates, gas prices and even flight information via Google, right from the dashboard. The backup camera cleans itself with an occasional burst of washer fluid and compressed air, so it's always clear. The horn honks when you're inflating the tires to confirm that you've reached the proper pressure. The list goes on.
Heck, there's even a high-resolution, full-color driver computer readout in the instrument cluster, which lends itself to a hi-tech look while keeping drivers apprised of vital vehicle information at a glance.
Interesting CVT Powertrain
The powertrain delivers further uniqueness. My tested up-level model got Nissan's highly acclaimed 3.5L V6 with dual variable overhead cams helping spin up 270 horsepower. Output is handled by the latest version of Nissan's Continually Variable Transmission, or CVT.
Since it has no actual gears, the CVT provides power on a smooth and endless surge without pausing for gearshifts, which benefits fuel economy and refinement. For the 2013 Nissan Altima, engineers even made some renovations within their gearless gearbox, improving the spread of available ratios, lightening it up, and reducing internal friction. They also revamped the CVT's computer brain to make it smarter.
Key benefits over the last-generation CVT? Better mileage, and a nearly startling surge of power right at the tip of your toes. Enthusiasts will appreciate the easy, instant access to full-blast acceleration when darting through traffic, merging, and especially when passing. No waiting for a shift required -- just drop your foot, and the 2013 Nissan Altima goes like bananas, right away.
Best of all, it even simulates the feeling of a "stepped" automatic transmission and also offers paddle-shift browsing of pre-set "pretend" gears. So, when you give it a boot, the 2013 Nissan Altima doesn't emit an escalating moan like a toddler about to throw a temper tantrum. In fact, the engine sounds pretty darn good.
Comfort First
Handling-wise, the 2013 Nissan Altima proves to be set up for touring first and handling second. It's a big, heavy car and it feels that way. Though it's not devoid of any entertainment value when pushed, it feels more like a well muscled sedan than an all-out precision handling weapon.
It's comfy, though. The 2013 Nissan Altima rides with a slight firmness and a solid, very well damped feel on just about anything. Suspension is set towards the luxury side of the equation, but without making you feel like you're driving a great big wad of pudding down the road. Brakes are powerful and fairly precise, though I did wish for a bit more feel and sportiness from the steering.
Other Notes
Other notes? The Bose stereo system is clean, loud and hits hard in the 2013 Nissan Altima -- and was very much appreciated on long highway drives. Altima's also got one of the biggest rear seats I've ever visited, and the heated steering wheel and remote starter were great touches during my late-fall test drive.
I left the tester mainly wishing for a smaller turning radius, since I felt numerous times like I was trying to park a bus. It could be a little quieter at speed, too.
Mileage landed at a very respectable 9.5L/100km on my watch, which included plenty of heavy-footed driving. Interestingly, that's the same figure I achieved a week later in a 4-cylinder powered
2013 Chevrolet Malibu
, which offers up 70 less horsepower. Take that as you will.
2013 Nissan Altima 3.5 SL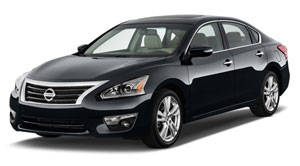 2013 Nissan Altima 3.5 SL