Pros:
The 2014 Acura TL is a midsize luxury sedan that offers typical Honda reliability, as well as a comfortable interior and dynamic handling. It comes with a long list of features, great V6 power, an excellent AWD system, and lots of everyday practicality.

Cons:
Despite a few tweaks for 2014, the Acura TL still looks somewhat bland. Trunk capacity is below average, and its fairly tight opening makes it harder to load big or long objects. What's more, the plethora of buttons may overwhelm some drivers.

2014 Acura TL Price:
There are no fewer than seven trim levels to choose from including the base TL ($39,990), TL A-Spec ($41,490), TL Tech ($43,590), TL SH-AWD ($43,990), TL SH-AWD A-Spec ($45,490), TL SH-AWD Tech ($47,590), and TL SH-AWD Elite ($49,590).
2014 Acura TL Fuel Economy:
FWD models with the 3.5L V6 and 6-speed autobox average 8.6L/100km. Those with the Super-Handling All-Wheel Drive (SH-AWD) system and 3.7L V6 burn a bit more fuel -- 9.5L/100km, to be exact. You should note that premium gas is recommended.
Improvements and Changes:
The 2014 Acura TL has barely evolved since its last major revision (for the 2012 model year). There's been a few cosmetic changes, and that's about it.
Powertrain:
As mentioned earlier, two V6 engines are available with the 2014 Acura TL. The venerable 3.5L unit is rated at 280 horsepower and 254 lb-ft of torque, while the more modern 3.7L variant produces 305 horsepower and 273 lb-ft of torque. The former can only be mated to a 6-speed automatic transmission with paddle shifters, while the latter also offers a close-ratio, 6-speed manual gearbox.
Cargo Capacity:
Base TLs have a 371-litre trunk (smaller than most rivals), while those with SH-AWD provide just 354 litres.
Safety:
The 2014 Acura TL's safety arsenal includes ABS, brake assist, electronic brake force distribution, Vehicle Stability Assist with Traction Control, Hill Start Assist, and six airbags.
Comparing the 2014 Acura TL:
Potential TL buyers may want to take a look at the
Audi A4
, BMW 3 Series, Cadillac CTS, Hyundai Genesis,
Infiniti Q50
, Lexus ES,
Lincoln MKZ
, Mercedes-Benz C-Class, and Volkswagen Passat/CC.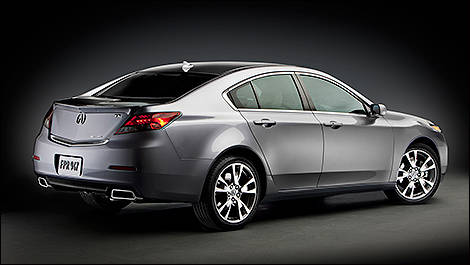 Photo: Acura
Reference : L'Annuel de l'automobile 2014
2014 Acura TL