Pros:
Similar to the Honda Accord, which it is based on, the 2014 Honda Crosstour boasts a very smooth ride as well as a stellar reputation for quality and reliability. Unlike the sedan, however, this CUV comes standard with a powerful V6 engine and all-wheel drive, giving it a big edge in winter conditions.
Cons:
On the other hand, controversial styling is often what sparks conversations about the Crosstour. Why didn't Honda choose the (probably) safer route by introducing a classic wagon variant of the Accord instead? What's more, rearward visibility is limited, and poor sales affect its resale value.
2014 Honda Crosstour Price:
You can opt for the base EX-L 4WD V6 model starting at $37,490, or the more equipped EX-L 4WD V6 NAVI at $39,490. The latter merely adds a navigation system and a hard drive, mind you.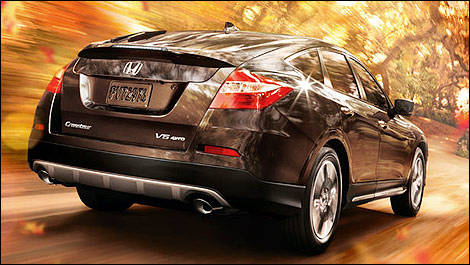 Photo: Honda
2014 Honda Crosstour Fuel Economy:
Official ratings for the Crosstour are 11.1L/100km city and 7.1L/100km highway, which represents a 9.3L/100km average.
Improvements and Changes:
Given the low demand, Honda decided to drop the 2WD, 4-cylinder models from the Crosstour lineup for 2014.
2014 Honda Crosstour Powertrain:
The remaining 3.5L SOHC V6 engine produces 278 horsepower and 252 lb-ft of torque through a 6-speed automatic transmission. This combo proves much more effective in thrusting the 1,865kg Crosstour forward.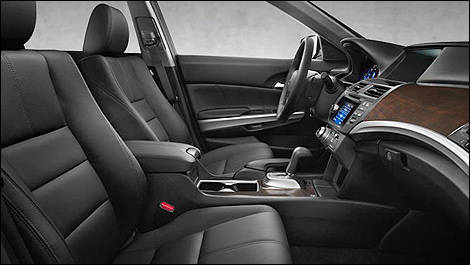 Photo: Honda
Cargo Capacity:
Thanks to its taller roofline in the back, the Crosstour's trunk can swallow up to 727 litres of gear -- way more than the average sedan. Folding the rear seats doubles the capacity (1,453 litres).
Safety:
The 2014 Honda Crosstour cares a lot about occupant protection. ABS, brake assist, vehicle stability assist with traction control, hill-start assist, a rearview camera, blind spot monitoring, lane departure warning, and forward collision warning all come standard.
Comparing the 2014 Honda Crosstour:
There are very few products like the Crosstour on the market, at least in Canada. Its closest rivals are the Subaru Outback and Toyota Venza.