The Toyota Supra and the BMW Z4 were developed conjointly by the Japanese and German automakers, but they are still pretty distinct as the former is a coupe while the latter is a convertible.
For its part, Toyota has never closed the door on the possibility of eventually producing an open-top version of its revived Supra. Just this past week, the head engineer for the model, Tetsuya Tada, told Japanese magazine Best Car that the new Supra had in fact been conceived at the outset as a convertible. Which of course means that nothing would prevent the company from creating such a version down the road, at least technically.
It appears, however, that a more likely future variant for the Supra would be a Targa-roofed version – especially given the previous Supra did in fact exist in such a configuration at one point.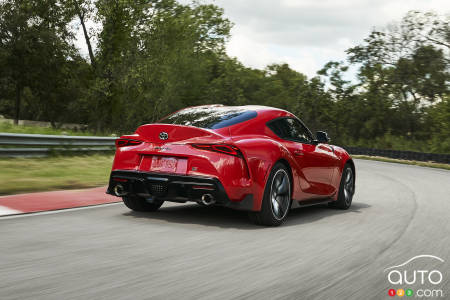 Opting for this approach would also allow Toyota to keep the body of its Supra relatively stiff. So no one expects that Toyota will venture onto BMW'S playing field; the Supra and Z4 will each retain their distinct characters.
Before giving the project a green light, Toyota will first want to see how the brand-new Supra coupe does on global markets now that it is finally getting its commercial release.
For its part, BMW is sticking to its original plan of keeping the Z4 a strictly open-top roadster for the duration of its lifecycle.
We will, incidentally, be taking part this week in a first-drive event devoted to the new Toyota Supra, which we'll get to test out on the road and on the track. Stay tuned for our first impressions!