• The 2024 Kia EV9 midsize SUV has been teased some more ahead of its reveal.
• The production version of the new all-electric midsize SUV will be presented officially on March 14.
• It's already clear the production model has retained much of the design of the concept version.
Kia has shared a new video teasing some exterior elements of the upcoming 2024 Kia EV9. The all-electric midsize SUV will be introduced officially later this month, but the company wants to keep attention focused on what is a groundbreaking model for the EV segments: a large, mass-market SUV without an internal combustion engine.
It doesn't always go this way, but it's clear from the latest images that in this case, the EV9 production model is retaining most of the design elements of the concept we saw earlier.
See also: Kia Shows First Camouflaged Images of Future Kia EV9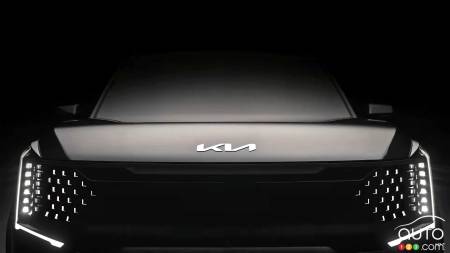 The shadowy images don't really reveal all that much, of course, but we do get a general idea of some of the major points. For instance, the vehicle is led by a closed panel on the front end, which is bracketed by LED headlights and DRLs that will look pretty distinctive on the road. Above it sits the new Kia logo on the hood.
At the back, the lighting is just as distinctive, as it runs vertically upwards towards the roof, but also horizontally partway towards that new logo in the centre.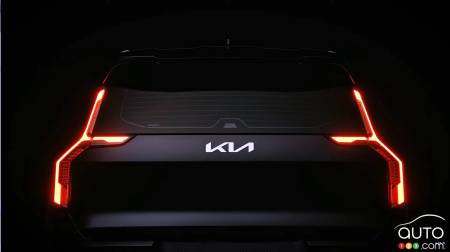 While Kia hasn't spelled this out explicitly, it's clear the EV9 will a roughly equivalent all-electric counterpart to the brand's enormously popular Telluride SUV. At the same time, this EV is built on the same E-GMP platform that underpins Kia's EV6, for example.
We can expect more tidbits of information - and who knows, maybe more teaser images – as the March 14 reveal date approaches.