• The 2024 Mercedes-Benz EQB gets revised styling and tech updates for year two on the market.
Just a week after introducing the new, more affordable EQB 250+ version of the Mercedes-Benz EQB electric SUV, the German automaker has shared the changes coming to the model for year two on the market.
In a nutshell, the 2024 Mercedes-Benz EQB will feature revised styling and updated connectivity, infotainment and safety systems. In a Canada, the model will be offered in the just-introduced 250+ format, as well as one all-wheel-drive variants that will be either the EQB 350 4MATIC model marketed here for 2023, or the EQB 300 4MATIC model. Mercedes-Benz Canada promises an announcement on that front in the coming weeks or months, ahead of the commercial debut of the 2024 models in Q1 of 2024.
See also: 2023 Mercedes-Benz EQB First Drive: ICE-Free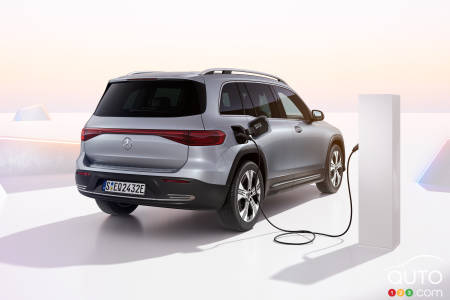 Styling of the 2024 Mercedes-Benz EQB
Most notably, the 2024 EQB features a newly designed black front panel surface with the star pattern we've seen on a number of other Mercedes models recently. The DRLs are connected via a light band, and a new bumper is designed to heighten the broadness of the SUV. Smaller changes include tweaked taillights.
Mercedes is offering more customization options, with two new paint colours and four new wheel designs.
Inside, there's a new steering wheel design with touch control panels, and trim in brown lime open-pore wood as well as backlit Mercedes-Benz patterns.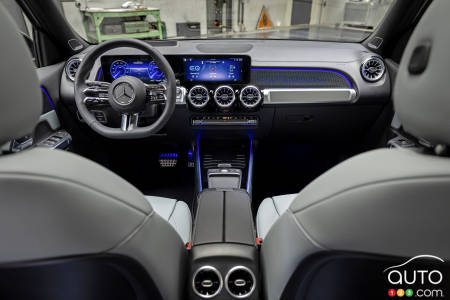 Updated tech in the 2024 Mercedes-Benz EQB
The MBUX system is now of the latest generation, and comes with a standard 10.25-inch touchscreen in all EQB models, and several drive assist systems have been updated. The Dolby Atmos option is now available on the optional Burmester audio system.
The powertrains of the EQB remain unchanged for 2024, with the front-wheel-drive EQB 250+ offering up 188 hp and 284 lb-ft of torque. The 350 4MATIC version delivers 288 hp and 384 lb-ft of torque in an AWD configuration (thus with two electric motors featured), while the 300 4MATIC, not previously offered in Canada, is good for 225 hp and 288 lb-ft of torque.
Range for the EQB 250+ is 394 km, for the EQB 350 4MATIC 356 km. We do not yet have the official figure for the EQB 300 4MATIC.
As mentioned, only one of the EQB 300 4MATIC and EQB 350 4MATIC models will be offered in Canada. Stay tuned for that in an announcement in the weeks ahead. We can also expect pricing for the 2024 EQB to be announced as the early 2024 launch approaches (2023 pricing is $59,990 CAD for the just announced 250+, and $75,700 for the EQB 350 4MATIC).