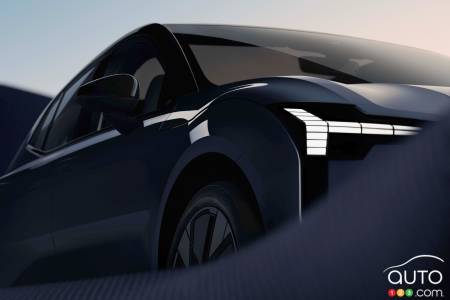 • Volvo's new crossover, the Volvo EX30, aims to combine safety, sustainability and comfort.
• The interior design uses recycled and renewable materials.
• According to Volvo, the EX30 offers a simplified, intuitive and technological user experience.
Volvo today provided more details about the interior of the 2024 Volvo EX30 and the technologies it will feature, in addition to sharing a few new images. The model is due to be officially unveiled on June 7.
Lisa Reeves, head of interior design at Volvo, points out that the EX30 embodies the best aspects of Scandinavian design, combining original materials, clever functionality and an excellent user experience. "Together, these elements distill the essence of a Volvo into a small package."
See also: 2024 Volvo EX30: Volvo Will Present its New EV on June 7
Premium audio
The Volvo EX30 features an innovative sound bar, installed under the windshield and inspired by home audio systems. The sound bar is designed to group all the speakers together and minimize cables and materials, while allowing for more storage space. Other elements, such as the window switches and glovebox, have been centralized on the sliding centre console.
Rear passengers also enjoy convenience innovations, with storage spaces for their phones and a storage box under the centre console. The tailgate contains a size guide to help owners buying furniture, for example.
Creating a feeling of space
Centralization is a key feature of the EX30's interior, notably with its unique 12.3-inch central display that brings together all relevant information for the driver. This creates a sense of space and reduces the use of materials.
The screen displays important information such as speed and charge levels at the top, while navigation and controls are accessible below. A context-sensitive bar offers functions based on current needs.
The screen also features a "calm view" that reduces eye fatigue during night-time driving by removing non-essential elements.
The EX30 integrates the Google infotainment system, including Google Assistant, Google Maps and Google Play, as well as wireless Apple CarPlay functionality. It also features 5G connectivity and uses Qualcomm Automotive's Snapdragon Cockpit Platforms technology for optimum responsiveness.
Four distinct interior environments
Buyers of the Volvo EX30 will be able to choose from four distinct interiors, each taking a sustainable approach to materials. One choice features the timeless appeal of recycled denim. Other sustainable materials include recycled plastic from various wastes, linen provided by the Volvo Cars Tech Fund investment fund, a responsible wool blend and knitted seat material containing recycled plastic.
The EX30 also features Nordico upholstery, an advanced material made from recycled textiles and bio-attributed materials from Swedish and Finnish forests.
The Volvo EX30 will be unveiled on June 7, and it will be available for order or pre-order in selected markets on the same date.