• The 2025 Volvo EX30 is presented for Canada.
Montreal, QC - Volvo continues its shift towards electrification. At a private presentation in Montreal, the Swedish automaker unveiled the all-new Volvo EX30 in a Canadian premiere. According to its creator, the all-electric small SUV embodies the principles of Scandinavian design, environmental responsibility and Volvo's legendary reputation for safety. Just in the smallest package produced to date by the company.
Competitively priced
The 2025 Volvo EX30 gets a starting price of $53,700, making it an attractive option for those looking to enter the world of electric mobility. Above all, this price makes the model eligible for the federal EV incentive and most if not all provincial EV incentives. In fact, the price is comparable to that of traditional high-end small SUVs with combustion engines.
As Volvo's first all-electric small SUV, the EX30 expands the brand's growing range of electric vehicles to four models. As demand for more environmentally friendly options grows, the manufacturer sees itself well positioned to become a leader in this field.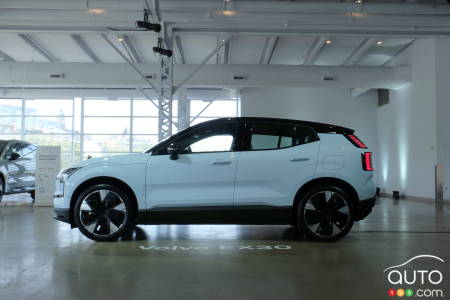 First presented in Milan earlier this year, the Volvo EX30 is designed to minimize its carbon footprint, reflecting Volvo's commitment to sustainability.
Its balanced design, with generously sized wheels and equal front and rear overhangs, reflects Scandinavian aesthetics. The front end features a modern safety shield, and Volvo's signature Thor's Hammer headlights take on a digital form for the electric age.
Powertrains of the 2025 Volvo EX30
It might be small, but the Volvo EX30 offers buyers a choice of two powertrains. For those prioritizing range, the single-motor version (rear-wheel drive system) with extended range offers around 442 km (estimated) between charges. This system produces 268 hp and 253 lb-ft of torque.
If you're more interested in performance, the twin-motor version offers 422 hp and 400 lb-ft of torque, which is huge for such a small car. This variant offers an estimated range of up to 426 km and, Volvo tells us, can do 0 to 100 km/h in 3.6 seconds.
In both configurations, the battery has a capacity of 69 kWh (64 kWh usable). According to Volvo, it takes just under 30 minutes to charge from 10 to 80 percent on a DC rapid charger.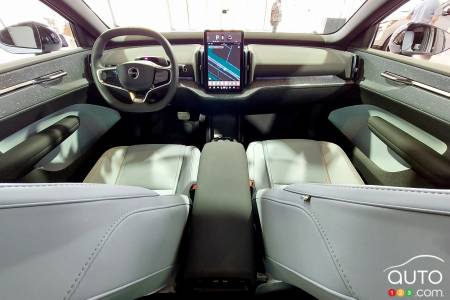 One of Volvo's greatest prides is safety, and the EX30 is no exception. Equipped with advanced safety features, it incorporates special technology to protect cyclists by warning drivers before opening their door.
Note that there is no data display in front of the driver, meaning drivers have to turn to the top portion of the large vertical multimedia display in the centre of the dashboard to find out how fast they're going, and so on. Volvo wanted to create a very airy space devoid of dials, buttons and other clutter, and it has. But the ergonomics are unique, and buyers will have to go through a period of adaptation.
What's more, the EX30's interior offers a blend of comfort, practicality and Volvo's own elegant Scandinavian design. At the same time, the vehicle is nearly eight inches (19 cm) shorter in total length than the XC40, and the difference can be felt on board, particularly in the second row. No problem with headroom, but taller adults may find their legs a little cramped.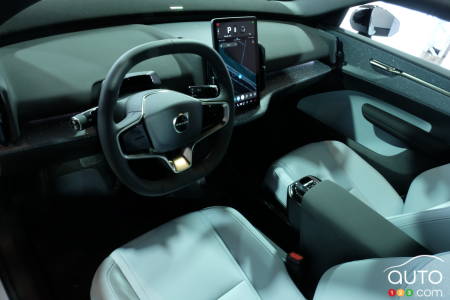 Of particular note is the enormous panoramic roof, which covers almost the entire roof and compensates for the tightness of the space by adding plenty of light and an open feel.
Not surprisingly, opening the tailgate reveals a trunk that doesn't offer a ton of space. We're talking just 315 litres in fact, which increases to 904 litres with the second-row seats lowered.
Full details on the various versions and equipment of the 2025 Volvo EX30, as well as the full price range, will be announced later this fall, when customers will also be able to reserve their SUV online. The model is expected in dealerships in summer 2024.