The current situation of the new Honda Accord is almost without precedent in automotive history. The model, fully redesigned for the 2018 model-year, has piled up the awards and positive reviews since it debuted in Detroit in July 2017. Automotive journalists have been unanimous in praising it; it's been called the best Accord ever made, period.
This kind of positive feedback should by all rights translate into robust sales growth… or some kind of growth, at very least.
And yet we are seeing the exact opposite happen with the Accord, a sedan that is perennially one of the top-selling vehicles in the U.S, across all categories.
The vehicle voted North American Car of the Year is failing to seduce customers. In April, only 21,751 American consumers signed on the bottom line to acquire one, for a drop of 19.3% in comparison with the same period in 2017…for the old model!
The Accord's styling, which some have found to be pretty ho-hum, could be pointed at as a cause, but there's no way not to acknowledge the over-arching trend currently sweeping over the industry as a principal cause. We're referring of course to the stampede by automotive buyers towards anything with the sport utility tag attached to it. The mighty Toyota Camry has not escaped the trend either. Also redesigned for 2018 (and with more success, in our view), saw its sales fall by 5% in April compared to the same month in 2017.
This trend did not begin in April; it has been measurable for several months.
When you see the Toyota Camry and Honda Accord losing steam in North America, you know the times they are a-changin'…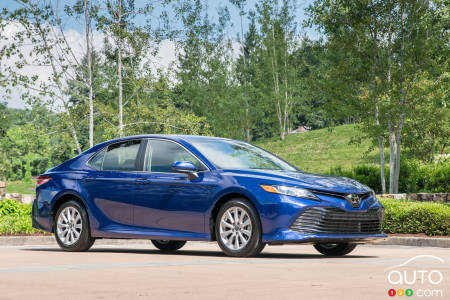 In 2017, in both the U.S. and in Canada, around two-thirds of vehicles sold were either SUVs or pickups. SUVs alone accounted for roughly half of all sales.
Experts are in agreement on two main points. First off, the popularity of SUVs will not cease to progress any time soon, which translates into tough times ahead for all cars, no matter how popular they are. Ford, fed up with seeing its sales performances melt like snow in the spring sun, has settled the issue once and for all by plugging the plug on all of its North American cars, save the iconic Mustang, a niche model.
Second, analysts think that, while sales of cars will continue to decline, at some point they will reach a stable floor. There remains, and will continue to exist, a core of consumers who want nothing to do with SUVs.
The vexing part for the industry is, no one knows when that floor will be reached.
Auto manufacturers who are still in the car game must be wringing their hands and hoping it will be soon.