For months now, I've been carefully following everything that's been going on around the upcoming movie from Ron Howard,
Rush
, which is about Formula 1.
Hollywood never really bothered with F1. Over the years, we've only been treated to a few (horrible) movies, and a racing-glove full of (just as horrible) small-screen series. The list of reasons why it was mostly bad is almost endless: bad understanding of racing, bad actors, bad stories, bad sense of reality...
For example, just think of Sylvester Stallone's dreadful,
Driven
. F1 really dodged a bullet when Rambo picked ChampCar to base his movie on.
The only title to really stand out as good is John Frankenheimer's
Grand Prix
, which dates back to 1966.
NASCAR had its moment on the big screen too when
Days of Thunder
(featuring the one and only Tom Cruise) came out in 1990.
Other than that, there's been nothing to set your nomex underwear on fire.
This time, though, it's serious.
Rush
traces back the tumultuous 1976 season of the F1 World Championship during which James Hunt, an eccentric British playboy, goes head-to-head with a cold, meticulous Austrian known as Niki Lauda.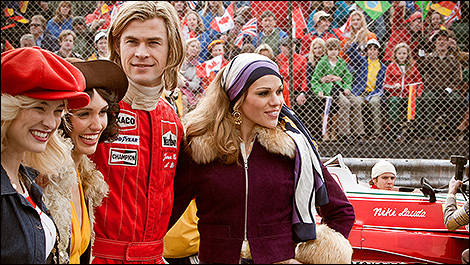 Photo: RUSH official website
The turning point of their fight is that season's German Grand Prix, at the Nürburgring, where Lauda's Ferrari 312 T2 spectacularly burst into flames after a heavy impact. The championship leader spent almost a full 60 seconds sitting in the furnace of his car burning down.
Only six weeks later, Lauda was back in the ring to fight Hunt, albeit bearing scars of his trip to hell.
Truth be told, the story of the 1976 F1 season is already worthy of the best Hollywood movies, so it was an excellent starting point for Ron Howard. However, the most staggering thing about
Rush
is the surreal attention to detail.
Everything was thought through from the cars racing on the track to the bell-bottom pants worn by the ladies following Master James around. They went as far as giving actor Daniel Brühl a denture to make him look even more like Lauda.
We're talking documentary level reconstruction of the past here.
I think that's why people will be interested in the Lauda-Hunt confrontation, which is out of the ordinary but maybe a bit arduous for non-F1 fans, otherwise. I think that's why people will like
Rush
.
If everything goes about like it sets out to, maybe
Rush
will turn out like
The Big Blue
of Luc Besson, a story of two fearsome competitors and friends who live for their sport.