If you own a Volkswagen Taos, you may have experienced a problem that I myself noted during my week-long test drive of the vehicle just recently. The issue is a sudden absence of sound from the audio system.
During my tests, I only experienced the problem once. When I started up, there was no sound, neither from AM or FM frequencies, nor from satellite radio channels, nor from the multimedia content that connects via smartphones.
Nothing!
I was with a friend when I experienced the problem. On starting the engine, I noticed that there was no sound, but I drove on anyway. We tried to find a solution along the way, but to no avail. It was only when we arrived at our destination that the problem solved itself, that is to say when we restarted the vehicle after a stop.
Obviously, that's annoying, and shouldn't happen.
Browse cars for sale available near you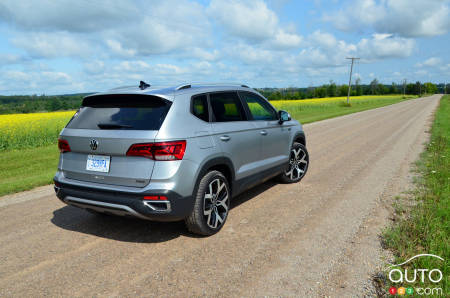 As fate would have it, the following week I found myself at the launch of the 2022 Volkswagen Jetta 2022. It was an irresistible opportunity to speak with a Volkswagen representative about the situation I'd encountered. Enter Patrick Danielson, director of product planning for Volkswagen Canada.
His answer was short and to the point: "Yes, we are aware of this problem, but the good news is that a solution has been found and that customers who are experiencing the same situation need only visit their dealer to have the update done." Danielson mentioned that in many cases, this would be done during the regular maintenance visit of the vehicle.
For those who encounter the problem, the immediate solution is to turn off the engine and restart it.
The grapevine has brought other, similar anecdotes from VW drivers to our ears. With another unidentified model of the brand, it seems it's necessary to get out of the vehicle, lock it and unlock it, to get a functional system after re-starting the engine. This information could not be confirmed by Volkswagen.
If you encounter any other problems of this kind with your Volkswagen, or any other product, don't hesitate to let us know so that we can check with the manufacturers when it is possible for us to do so. We might not always get an answer, but sometimes we will!