After some initial issues prepping the concept, Italian automaker Alfa recently launched a little brother to their now-discontinued 8C Competizione at the
Geneva Motor Show
.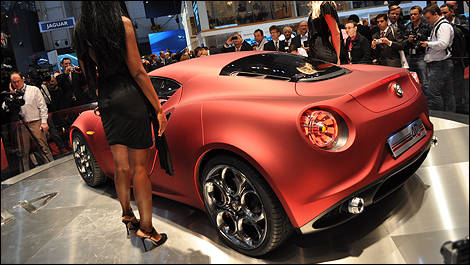 Photo: Mathieu St-Pierre/Auto123.com
Packing a mid-mounted 1.8 litre four cylinder engine with intercooled turbocharger that drives the rear wheels, the concept, called the 4C GTA, is engineered to be both mean and green. The cutting-edge powerplant boasts direct injection and dual continuously variable valve timing to bolster efficiency, and it's currently employed in other Alfa models, like the Giulietta Quadrifoglio Verde. That's Green "Four Leaf Clover", in English.
But in the "Red, two-seat Road Rocket", the little boosted mill gives the 4C GTA (Grand Touring Lightweight) a different character altogether. Using lightweight materials and Alfa's TCT Dry-Clutch gearbox, the 4C intends to bring the 8C Competizione's driving character into a smaller, lighter, and less expensive package. This coupe has a wheelbase of less than 2.4 metres, and an overall length of about 4 metres.
Translation? It's small, light, compact and very fast.
In fact, the automaker says weight will be limited to just 850 kilograms, and that the model will offer a weight/power ratio better than 4kg/HP. We've saved you the math, and calculated the
4C
's output at around 213 ponies. Of course, concrete specifications were unavailable at the time of writing—though some reports pin horsepower estimates as high as 265.
The automaker claims 0-60 in the sub-five second range—clearly showcasing that light weight can be as big a performance advantage as big horsepower. A big part of the 4C's light weight comes thanks to its underpinnings, which are derived from the
KTM X-Bow
. If you haven't seen the KTM X-Bow, google it. Now.
Careful attention to handling dynamics via suspension tuning and weight balance mean the Alfa 4C will deliver on Alfa's storied handling capabilities, while the brand's stand-out styling will make the 4C recognizable wherever it goes. Alfa says that whether driven around town on or some of the world's most challenging courses, the 4C will deliver a world-class motoring experience.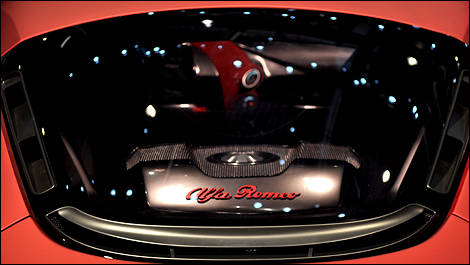 Photo: Mathieu St-Pierre/Auto123.com