Calgary, Alberta's Allen Berg ran a stint in Formula 1 back in 1986, driving an Osella powered by an Alfa Romeo turbocharged V8 engine.
Following a relatively good season in the British Formula 3 series, competing against Ayrton Senna and Martin Brundle, Berg was offered the opportunity to race with the small Osella F1 team in 1986.
Marc Surer who was driving for Arrows, was injured in a rally crash. Christian Danner, who was with Osella moved to Arrows. Berg's manager, Michel Koenig, had been in contact with Enzo Osella about me taking Danner's place.
"I was with the team throughout the Canadian GP and we signed the deal on top of a fuel drum in the old F1 garages on Monday morning following the race, taking a copy of Christian's old contract and essentially filling my name over top of his!" Berg said.
"I found myself with the smallest team with least powerful engines, no testing and antiquated chassis technology. We never did any testing. My first race was the USGP on the downtown streets of Detroit with walls everywhere," Berg recalled.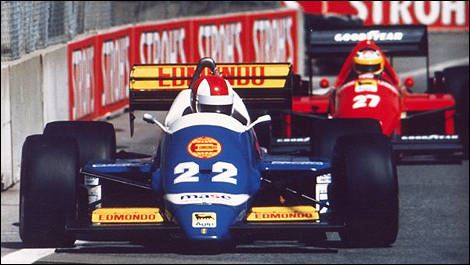 Allan Berg, Osella-Alfa Romeo (Photo: WRi2)
"The 1200-lb Osella had about 950 horses in qualifying and about 850 during the race. Acceleration was unbelievable; the car had the ability to spin the rear tires in 5th gear at 200 km/h on cold tires. Braking performance was mind boggling, with huge wings on the front and back, just lifting off the throttle would equate to a full panic stop in a road car," he explained.
"One thing about the Alfa Romeo engines that the team used was that the engine was anemic below 7500 rpm, once you reach 8000 the power started coming on, at 8500 rpm onward you had over 900 horsepower under your right foot, the throttle was almost an on-off switch!" he added.
The F1 cars were terribly physical in those days with no power steering, a gear lever and virtually no suspension.
"I would lose 8-10 pounds during a race and would typically finish the event with blisters on my hands and feet. I remember at Austrian GP in the Bosch Curve I had to shift from 4th to 5th in the middle of the turn, it took all of my strength to keep the wheel turned while I shifted gears," Berg recalled.
Allen Berg contested 9 Grands Prix that year, with a best result of a 12th place in Germany.
"I had discussion with many teams, with Labatt Breweries involved with the negotiations. With the Canadian Grand Prix being dropped in 1987, this negated any chances of securing backing from Canada for that season," said Berg who then raced in Mexico where he clinched the Formula 2 title in 1993.
Today, he is the owner of
Allen Berg Racing Schools
located at Auto Club Speedway in California and Varsity Chrysler SpeedPark in Calgary, Alberta.