At the Goodwood Festival of Speed, on now in England, you can expect to see just about anything. And just when you think you can't be surprised anymore, along comes a tiny Aston Martin Cygnet equipped with a monstrous V8 engine.
Magic!
The Cygnet? Scratching you head? You can be forgiven for not having any memory of this model, because few have actually seen one. The car was only sold in England, and only for two years (2012-2013), and it was basically a Toyota iQ decked in Aston Martin garb. The model owed its existence to the automaker's need to conform to British 2012 regulations regarding polluting emissions.
The model thereafter slipped into oblivion, or almost.
Almost, because this week at Goodwood it made quite a comeback appearance. Namely, Aston Martin placed a V8 under the hood of the tiny car, because why not.
The Cygnet, which during its production run delivered all of 97 hp to its driver, now laid the hammer down with 430. Obviously the modifications didn't – couldn't – end there. It was necessary to rebuild the partition separating the cabin from the engine compartment, and a new transmission tunnel had to be devised. The under-chassis and many suspension components were nicked from the automaker's old-generation Vantage model.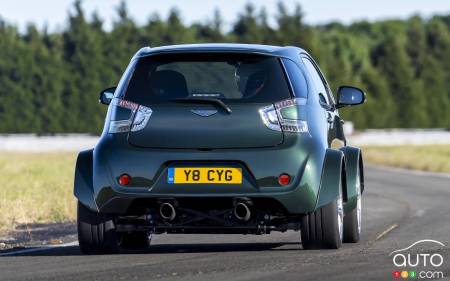 The result is pretty spectacular. In addition to those 430 horses, the car's powertrain produces 361 lb-ft of torque and can complete the 0-100 km/h in a mere 4.2 seconds.
And since we're in the world of the otherworldly, we'll say that we're almost surprised the model isn't quicker off the line than that!
No matter, this little bit of madness on four wheels is still a better accelerator than the V8-equipped Vantage S. Quite a feat!
And if you're wondering about top speed, know that by keeping the pedal to the metal you can get close to 300 km/h with your top speed. Which we call terrifying.
It's an amusing story of imaginative automotive madness, to be sure, and one with an interesting coda: it seems a well-heeled buyer has decided to fork over the cash necessary to lay their hands on this one-off Cygnet.