• Jeep is recalling 58,000 Wranglers to address a problem that can cause a fire.
• A superfluous, improperly installed frame stud could puncture the fuel tank in a crash.
• This is the second recall for the Jeep Wrangler since the beginning of the year.
Jeep is recalling 57,885 Wranglers due to an unusual problem that could, if an accident occurs, pose a fire risk.
The company says 58 percent of the affected vehicles are believed to have the problem. The Wranglers targeted by the recall were built between October 16, 2019 and May 14, 2022.
Oddly, the issue involves a part that is superfluous, that is to say that it was installed for no reason. In the event of an accident, that part, a frame stud, could come into contact with the fuel tank. If this happens, it could puncture the tank and cause a fuel leak. That in turn creates a real risk of fire.
Jeep is not aware of any accidents or injuries related to this situation.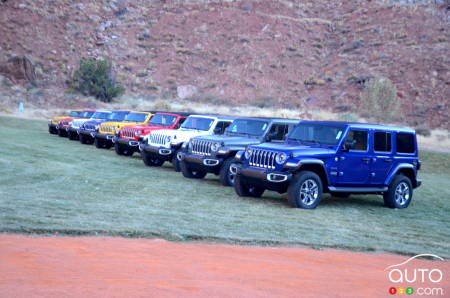 The company did not specify or explain why the models were assembled with this extra part. The solution to fix the issue is rather simple: Jeep technicians will remove the part in question if it is present.
Jeep says it will provide more details to owners on May 12. Note that the recall does not apply to the Wrangler's cousin vehicle, the Gladiator pickup.
For the Jeep Wrangler, this is a second campaign since the beginning of 2023. The company recalled just over 69,000 units to address an issue with the manual transmission, which has a clutch pressure plate that can cause a fire. The company is still working on a solution and will inform owners about that starting April 14.