Auto shows are all about surprises. Manufacturers jostle for attention at these events and each one hopes to blow your socks off with their latest offering.
This is all well and good, but nowadays, every town in North America seems to be hosting its own auto show. I'm not joking. One day in the not-too-distant future, I can picture myself winging my way to Pickle Lake, Ontario or Heart's Desire, Newfoundland to cover the launch of the latest Chinese model, the Hooflung Armpit GT.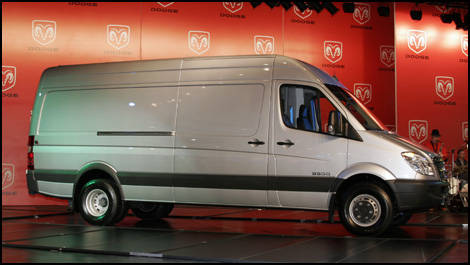 2007 Dodge Sprinter
At this time of the year it gets even worse, as the shows in L.A., Detroit, Montreal, Toronto, and Chicago are so closely spaced that if you oversleep on the plane back from one, you'll miss the next. Of course, this doesn't even take into account the ones which take place in other far-flung parts of our planet.
So how does a manufacturer surprise the crowds at each and every one?
Well, the short answer is "they can't". You see, if they reveal the new Maserati Quattroporte in Detroit, the world and his friend can view it on the web before we can even figure out how to spell it.
So the Toronto show was just another show, eh!
NO, NO, NO!!! The Toronto show was brilliant, and I'll tell you why.
Daimler-Chrysler started it off with a huge wooden box set on a stage full of guys wearing hard hats.
Now I have to be honest here...coming from a building trade background myself, D-C's idea of good looking, muscle bound builders with perfectly manicured fingernails did not quite match up to mine. Yes, I've seen one or two of these in my time, but most of my memories are of rather large beer bellies, two day old facial hair, and the delightful two-cheeked smiles as they bent over!
Never mind, with the sounds of "Working for a Living" being blasted out by the band on stage, the box opened up to reveal the all new Dodge Sprinter work van.