• Kia is developing a pickup truck for the Australian market.
• The model will be built on a ladder chassis, meaning it won't be a close cousin of the Hyundai Santa Cruz.
• Kia has no plans to offer this vehicle here, but given the popularity of the midsize pickup segment ...
For a few weeks now, rumours have been circulating that Korean automaker Kia is developing a pickup truck. Naturally, that has led to speculation about possible North American plans for this potential new truck - especially as the Hyundai Group parent company already offers a similar solution in the form of the Hyundai Santa Cruz.
A report by Australian outlet Drive points to the imminent arrival of a pickup from Kia. The outlet reports that Kia has told its dealers to expect a "genuine and serious rival" to the Toyota Hilux and Ford Ranger models marketed sold in Australia. No mention was made of North America, and while it's not impossible that Kia would bring the vehicle here, based on the information circulating at the moment, it would be pretty surprising if it did in the short term.
Even so, it's interesting to see what Kia has in store for the Australian market.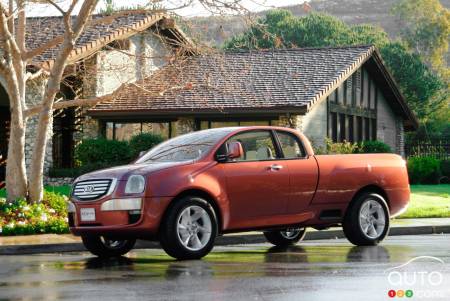 For the moment, the truck has yet to be named. What we do know is that it will be built on a ladder frame and powered by a diesel engine. Kia could use one of the diesel powertrains it markets elsewhere in the world (the 4-cylinder of the Kia Sorento and Hyundai Santa Fe or the 3.0L inline 6-cylinder of the GV80), or whether the block will come from another source.
Spy images of the vehicle in testing shared by the Drive website show a pickup in a double-cab configuration.
Naturally, Kia is keeping tight-lipped about this future product, merely confirming the vehicle's existence in interviews with the media. "Kia is currently developing a future pickup truck model that will be highly capable and fit for purpose. Additional details will be confirmed in due course," Kia told The Drive.
For the rest, we'll just have to wait and see whether Kia will explore other markets with this vehicle. The midsize pickup segment is booming. The manufacturer will certainly be evaluating its options.